Parkland Survivor David Hogg Just Revealed Whether He Plans To Run For Congress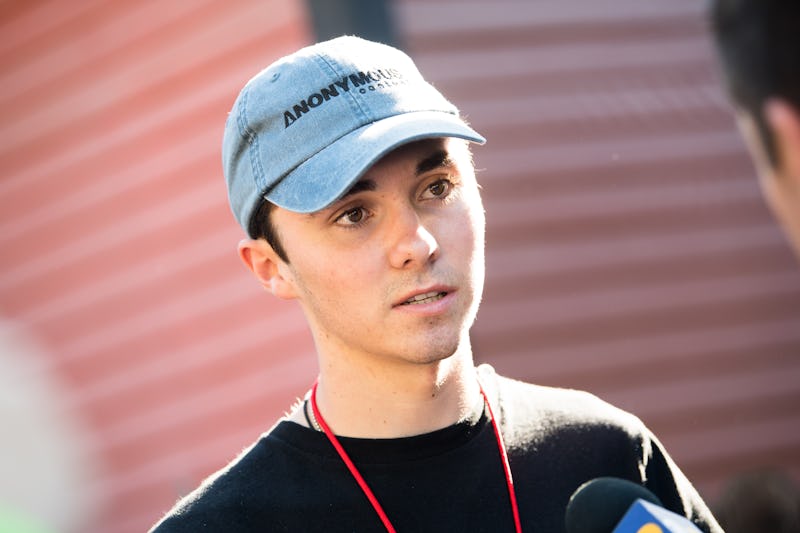 Emma McIntyre/Getty Images Entertainment/Getty Images
In the wake of the horrific February school shooting in Parkland, Florida, many of the Marjory Stoneman Douglas High School survivors took to activism to make their voices heard on American gun violence. One of them, David Hogg, is now eyeing Congress, according to his remarks in an interview with New York Magazine published on Monday. Although Hogg is only 18 years old right now — thus, not eligible to run for a congressional seat — he said he would materialize those plans as soon as he turns 25.
"I think I've come to that conclusion," he told New York Magazine. "I want to be at least part of the change in Congress." He pointed to Republicans as being "successful" when it came to youth engagement. "The reason Republicans are successful right now is because they're empowering young people," Hogg said. "Older Democrats just won't move the f*ck off the plate and let us take control."
The Parkland activist made clear that he was not intimidated by some right-wingers' baseless attacks on him as a "crisis actor." Hogg said, "If somebody is stupid enough to try anything on us, that will make the movement even stronger."
New York Magazine's Lisa Miller reported that the student activist has already completed a bus tour with his peers at the March For Our Lives organization. Now, he will join other Parkland survivors on getting young eligible Americans interested and active in voting during the midterm elections.
At 18, Hogg already has his own opinions on "just about everything," according to Miller. The reporter wrote that Hogg supported better gun control measures — which is pretty much known at this point — but also universal health care. When it comes to the Democrat Alexandria Ocasio-Cortez, Hogg said that she would be a "future president of the United States." He also expressed his opinion on the age limit of politicians running Capitol Hill.
When Miller reminded Hogg that old age did not necessarily mean inefficiency, Hogg later on tweeted, "I had an interesting conversation today when the question of congressional age limits came up. Do you think there should be an age limit on congressmen, congresswomen, and congressthem?" In response to this poll, 59 percent agreed with the idea of an age limit. That was more than 33,000 votes, according to Miller.
In his conversation with Miller, Hogg called out what the New York Magazine reporter described as "adult hypocrisy." He said that Bernie Sanders was a "great guy" but was "terrible on gun [control]." He also lambasted Barack Obama for his drone warfare. Letting loose, Hogg said, "Honestly, they all kind of suck."
Politics seem critical for Hogg, based on his interview with Miller. Voting, even more. "People need to realize that people have died for your vote," he told Miller. "Free college is on the ballot. The draft is on that ballot. Universal health care is on the ballot. Abortion is on the ballot. Supreme Court is on the ballot. Everything that affects your life and, more importantly, affects the people that come after you is on that ballot. Your inaction today will affect you tomorrow."