Taco Bell Will Let You Throw Parties In-Restaurant Now — Here's How To Book One Online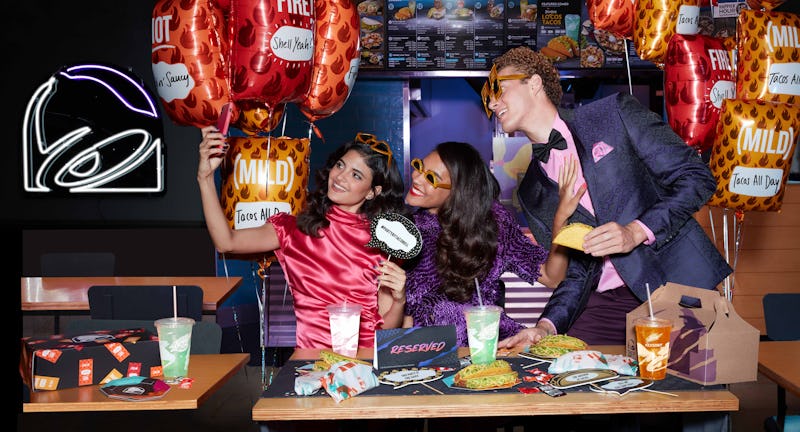 Taco Bell
Most of us have been to parties and eventually ended up, in a Uber-enabled, drunken stooper, at a Taco Bell drive thru. But suppose the opposite were possible. What if the party...started at a Taco Bell? Soon, that question won't be hypothetical as the fast food restaurant is launching PARTY by Taco Bell. Starting Thursday, Nov. 8, Taco Bell fans and freaks will get their chance to reserve and host their own parties at select Taco Bell locations across the U.S. Are we in the Good Place? Are we in the Bad Place? Who can say!
"The next generation of modern entertaining may just have arrived" a press release for the PARTY campaign states. I appreciate the hesitance (humbleness?) in that statement. Taco Bell isn't for sure going to declare this the next generation of modern entertaining. They're just going to entice it as a possibility: perhaps all parties in the modern era will begin at a Taco Bell. Just as the taco oracle (tacoracle?) predicted.
What does a Taco Bell PARTY look like? First, let's not confuse "party" (lowercase) with "PARTY" (all caps as if to evoke the sugar-induced craze of a Mountain Dew Baja Blast). A "Taco Bell party" looks like me resigning to the fact that I'm going to tipsily eat a chicken quesadilla in the back of my Lyft while the driver listens to the Delilah radio show.
A PARTY by Taco Bell includes you and one to ten of your closest friends having the time of your fourth meal-having life. Starting at $25, a PARTY includes reserved seating at the restaurant (this crucial) and a Taco Bell Party Décor Kit (also crucial). What does a Taco Bell Party Décor Kit entail? A table runner, 10 paper plates, a photo prop kit, and I'm guessing a lifetime of memories.
Oh, but no food. The PARTY by Taco Bell website states, "a team member will help you order food once you're here. We suggest our Taco Party Pack." You are paying $25 for "a Taco Bell Party Decor Kit and reserved seating with breathtaking views of tacos," but the food? That's on you, hun.
Taco Bell is well aware of the absurdity in what they're asking customers to do. "Book your next party at the only logical place: Taco Bell," their website reads. You can go to TacoBellParty.com and reserve the time and place for up to 10 guests. Parties will be held Nov. 24 through Dec. 22, perfectly coinciding with all your holiday gatherings.
If there isn't a participating Taco Bell in your area, don't let that stop you. You can buy your own Taco Bell Party decor kit online and bring the party to wherever you are. You can choose from a "Luxe" or "Electric" aesthetic, and add extras light balloons shaped like sauce packets, sunglasses shaped like tacos and bells, or a photo prop pack.
"After introducing 'Taco Bell Weddings' in our Las Vegas Cantina and seeing the huge response - we have had 110 weddings booked there in just over a year - there was a clear need and opportunity to translate this intersection of fun, cool, and accessible entertaining to any kind of occasion," said Marisa Thalberg, Global Chief Brand Officer at Taco Bell Corp, in the press release. "For the most devout Taco Bell fans to those who will just find this kitschy cool, we are about to make it easy to become the perfect postmodern party host."
If you want to go full out, you can even turn your PARTY by Taco Bell into a bachelorette or engagement party with Taco Bell's new wedding accessories. All your parties belong to Taco Bell.