Taco Bell Just Launched A Line Of Wedding Accessories & You'll Want Every Piece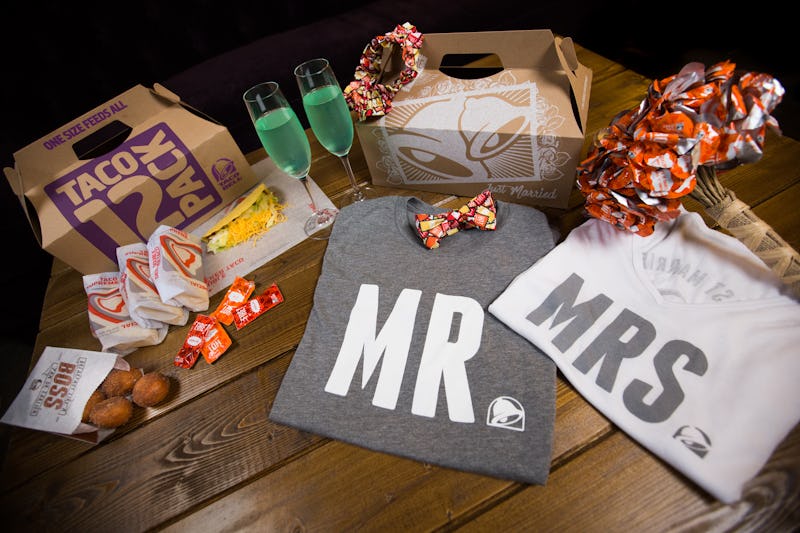 Courtesy of Taco Bell
Last week Taco Bell already shook the collective internet with the announcement that its famous Nacho Fries were making a triumphant return to menus; but friends, it isn't just Taco Bells you are hearing in the summer air, but wedding bells. Taco Bell has launched wedding accessories, and every single one of them is so iconic that I don't care what phase of your life you're in or what your taco proclivities are — you need them all, stat. Single? Buy yourself a Taco Bell garter. Engaged? Surprise, your whole wedding is Taco Bell-themed now, according to the law. Already married? Get ready to do it all over again, because now that there's Taco Bell wedding merch, every marriage that came before it is officially void and needs to be recommitted in the shadow of the all supreme Dollar Cravings menu.
Likely this isn't the first time you've read the words "Taco Bell" and "wedding" in a sentence. The flagship Taco Bell Cantina Restaurant in Las Vegas has been offering wedding services for over a year now, each of which comes in a package including wedding swag, a reception area, a sauce packet bouquet, a Cinnabon Delights wedding cake, and a Taco Bell as your literal chapel. Sure, up until recently you could only have 15 guests, but the package also comes with 12 tacos and your second cousins can't really compete with that, am I right?
Luckily, you no longer have to sacrifice the attendance of all 27 of the women whose bridesmaid you were before James Marsden stole your planner out of the back of a taxi and disrespected your carefully arranged schedule, because Taco Bell is bringing the wedding to you. The Taco Shop, which already is home to all kinds of must-have Taco Bell swag, just dropped five new pieces for its wedding line that are basically as close to a millennial fairy tale as it gets.
BEHOLD.
Taco Bell Wedding Bow Tie
Someone please edit whatever the current Urban Dictionary definition for "class" is, because this is the new standard, y'all.
Taco Bell Wedding Garter
I personally have never been more on board for patriarchal norms than I am in this moment, except for the fact that, were this my wedding, I would never take this garter off. Bury me in it, the way I deserve.
Matching Taco Bell Champagne Set
A toast to true love and tacos, which, as always, remain one in the same.
Mrs. & Mr. Shirts
The backs of them both say "Just Married," which is second in romance only to the phrase "Just Singlehandedly Ate An Entire Party Pack Of Tacos".
"The idea of enabling some of our most fervent and creative fans to express their love (for each other and tacos) with a Taco Bell wedding was certainly our idea of matrimonial bliss. However, the desire we have witnessed this year for Taco Bell weddings has exceeded all our expectations," said Marisa Thalberg, Chief Brand Officer of Taco Bell, in a press release. "In just one year, we have had over 60 couples, averaging more than one per week, tie the knot with us at our Las Vegas Cantina. And as we round this anniversary, we are excited to make future ceremonies even bigger and better than before."
Because of the massive success of the wedding promotion, Taco Bell has expanded its Party Room so that people will be able to invite twice as many guests as before. Yes, that means more people to elbow out of the way to get to the tacos, but it also means more love. And isn't that what this is (mostly) about (once you factor in that you'll never love anyone as much as cheese)?
If you want to book a wedding at Taco Bell, you can find out more about how to make it happen here; if you want to do what I'm about to do and look at a bunch of happy couples getting married in a Taco Bell chapel while inhaling your lunch at your desk and pretending not to tear up, then you can make that happen here. Congratulations to us all, the wed and unwed, the single and the taken, because this is a blessed day for us, each and every one.