The 'Star Trek: Discovery' Universe Is Expanding & It Could Mean The Return Of This Fan Fave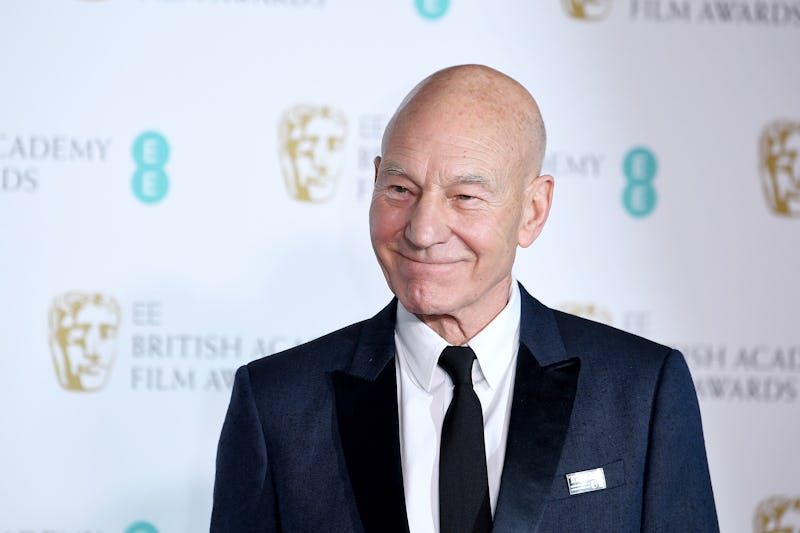 Jeff Spicer/Getty Images Entertainment/Getty Images
Even though Patrick Stewart's Star Trek: The Next Generation character, Captain Jean-Luc Picard made his last official appearance in 2002, he has lived on thanks to some amazing memes. On Tuesday though, CBS announced plans for a slew of new Star Trek projects, teasing that Stewart might reprise his role as Captain Picard, according to The Hollywood Reporter. Fans, prepare for more perfect moments like that facepalm.
Alex Kurtzman, executive producer of the CBS All Access show, Star Trek: Discovery, has signed a five-year extension with the network, staying on as the sole Disovery showrunner and helping to expand the franchise into new series, miniseries, and even animation. "There is a very short list of writer-producer-directors that every film and television studio wants to be associated with," CBS Television Studios president David Stapf said in a statement on Tuesday, "And Alex and his Secret Hideout team are always at the top."
"His talent, taste and ability to shepherd a successful project is unparalleled. Alex has done remarkable work for our studio ... we are thrilled that he, [Secret Hideout president] Heather [Kadin] and their team will be partnering with us for a long time to come."
One of those series could see Stewart's return as fan-favorite Starfleet officer Picard, which has been the subject of much speculation recently, as reported by THR. When reports surfaced that Stewart might be coming back to the franchise, fans immediately took to social media to share their excitement — with plenty of Captain Picard gifs, of course.
@rob_keyes tweeted, "I'm game for more Star Trek TV shows. I'm super game for Patrick Stewart's Captain Picard potentially coming back" and @zaphodgjd said, "The mere possibility of Patrick Stewart coming back as Picard made me happy. Star Trek is a show about a hopeful future that changed me as a child growing up."
@TovarishSR also wrote, "Patrick Stewart back as Picard? Yessssssssssssssssss. I really hope this happens," and Eighties_Brian said, "If Patrick Stewart comes back to Star Trek, even in a cameo I will not miss it. It's been far too long without the dose of awesome he brings."
According to THR, sources say Kurtzman and former Discovery writer and director Akiva Goldsman are attached to the project. Stewart previously appeared in seven seasons of Star Trek: Next Generation, as well as in four of the franchise's films, his most recent turn being in 2002's Star Trek: Nemesis.
The actor may have also teased the possibility of his making a return to Star Trek earlier this month. In a June 4 interview with Red Carpet News TV, when asked if he'd seen Discovery, Stewart responded, "No, I haven't, but I may have good cause to look at it very soon."
As if that weren't exciting enough, the forthcoming CBS shows aren't the only Star Trek project in the works. In April, Variety reported that S.J. Clarkson would direct the upcoming fourth film, making her the first female director in the franchise's history, though Paramount Pictures did not comment on the news. Quentin Tarantino and J.J. Abrams are also reportedly working on a separate Star Wars movie, but the studio said that movie would come after the fourth film.
The studio did, however, announce at CinemaCon in Las Vegas that they were planning another film with Chris Hemsworth, who played George Kirk, father of Chris Pine's James T. Kirk, in 2009's Star Trek, and Zachary Quinto is also slated to reprise his role as Spock. According to Variety, sources say a main element of the film's plot is James running into his father via time travel.
With so many Star Trek projects in the works, fans have plenty to look forward to, and here's hoping Stewart's rumored return is one of them.