One Patriots Player Is Already Ruling Out A Visit To The White House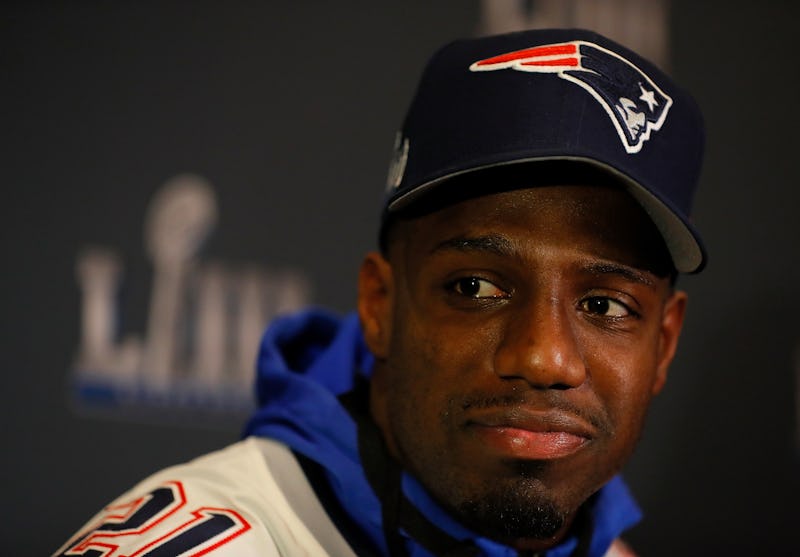 Kevin C. Cox/Getty Images Sport/Getty Images
After the big Super Bowl game in Atlanta on Sunday, the New England Patriots bagged their sixth title. While President Donald Trump hasn't extended an invitation yet, champion teams usually visit the White House to celebrate. But the Patriots' Duron Harmon has already said that he'll pass on the possibility, according to TMZ Sports on Monday.
Harmon told the website that he did not plan to go because "they don't want me in the White House." The Patriots' safety added that it would be "dope" if he could do what the 2018 NBA champion team, Golden State Warriors, did: visit former president Barack Obama to celebrate their victory. "Hey, Obama," Harmon told TMZ. "Come holler at me, man. We love you over here."
Harmon is one of the Patriots' most well-known players. Some have dubbed him "The Closer" for his ability to save the game at the very last minute. On Sunday night, living up to that nickname, Harmon stepped in after Patriots' safety Patrick Chung got an arm injury.
This won't be the first time a Patriots player has opted to stay out of the White House. After the team won the 2017 Super Bowl, Trump invited the Patriots to the White House, but players like quarterback Tom Brady and wide receiver Danny Amendola refused to go.
It's far from the first time football players and the president have verbally sparred with each other in public. In 2018, the Philadelphia Eagles, who won the Super Bowl that year, was disinvited by Trump from the White House after some of the players said that they weren't interesting in visiting because of Trump's policies. One of the players, Torrey Smith, told CNN after the Eagles' win that "it's not just about politics" for him.
"If I told you that I was invited to a party by an individual I believe is sexist or has no respect for women or I told you that this individual has said offensive things towards many minority groups ... this individual also called my peers and my friends SOB's, you would understand why I wouldn't want to go to that party," he said in the CNN interview. "Why is it any different when the person has title of President of the United States?"
Months later in June, Trump said on Twitter that he canceled the visit because "only a small number of players decided to come."
"Staying in the Locker Room for the playing of our National Anthem is as disrespectful to our country as kneeling," he added. "Sorry!"
The NFL Players' Association (NFLPA) and Trump have also disagreed over his position on football players who kneel in protest during the national anthem. Trump had said in September 2017 that the NFL should kick out players who kneel, and in response, the NFLPA said in a statement that it was "extremely disappointed" by the president's comments and added that "no man or woman should have to choose a job that forces them to surrender their rights" to free speech.
Harmon skipped a White House visit in 2017 as well, after his team won the Super Bowl LI. While Harmon did not elaborate to TMZ on why he won't go to the White House this year, he told Sports Illustrated: "I probably won't go. I'm not going. I did not go last time. We all know why. I just feel like, for what he believes and what he says, it doesn't sit well with me, so there's no point in going there. It would be fake to shake his hand."
Though Trump has not yet extended an invitation to the Patriots, Harmon may not end up being the only one from the team to skip a White House visit this year.