Patty Jenkins Doesn't Think She "Deserves" Her Historic 'Wonder Woman' Deal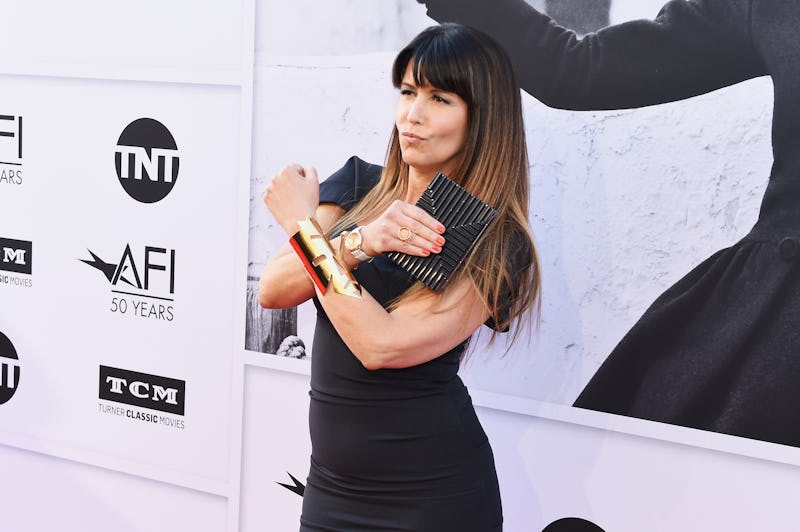 Kevin Winter/Getty Images Entertainment/Getty Images
Mountains are being moved and record numbers are getting shattered in Hollywood, and all eyes are on Wonder Woman director Patty Jenkins because of it. Just a few days ago, Jenkins reportedly made a historic deal that will cause her to be the highest-paid female director of all time. After months of speculation, reports claim the director negotiated a game-changing paycheck for directing, writing, and producing Wonder Woman's 2019 sequel. Beyond Hollywood and regardless of occupational field, it's a monumental moment for women in the workforce in terms of equal pay. Still, Jenkins says this triumph isn't necessarily one that she deserves.
On Thursday night, with the news still fresh, Jenkins joined a celebration of Wonder Woman's home entertainment release: A stunning art show powered by 300 Intel drones that painted WW images in the sky against LA's skyline. While speaking with Jenkins at the breathtaking event in the midst of her astounding accomplishments, it's clear the last thing she's about to do is sit back, take it all in, and pat herself on the back. She's changing the game, and isn't applauding herself while doing so.
"I don't believe in deserve. Like, I've never seen anybody who deserves much," Jenkins says about her historic deal. It's that exact mindset which allows her to continue thriving and paving the way for people and causes bigger than herself.
Jenkins has changed the course of history and certainly earned her salary, but she doesn't see it that way. "I think it's all about hard work and hope for things, but it's not about deserve," she says. Her ego is astonishingly in check for someone of her stature, and rather than making it about herself, she makes the deal about the work and the art of storytelling. "It's about belief and I believe a great movie is possible, so [I'm] trying for that."
According to Vulture, Jenkins' negotiation wasn't settled until the number was closer or equivalent to what a male director would make for a movie so wildly successful. Reports claim her Wonder Woman sequel salary is in the $8 million range, compared to the $1 million she made from the first installment (not including performance bonuses, etc). She defied the odds and the challanged misconceptions that female-led superhero films fail.
Jenkins immediately broke records with Wonder Woman's performance, and hopefully, that wasn't something she would let executives take lightly in negotiations. In its opening June weekend, Wonder Woman made $223 million worldwide, with $100.5 million from the United States. Patty Jenkins broke the box office record for the highest-grossing film directed by a woman, previously set by Fifty Shades of Grey's Sam Taylor-Johnson (who brought in $85.2 million in the U.S. opening weekend). Since, Wonder Woman has made over $800 million worldwide.
But with great power comes great responsibility, and Jenkins admits she is feeling the pressure to live up to the numbers. "Oh yeah. I felt pressure to live up [to it], to make a good deal," she says.
It's difficult and often frustrating to compare numbers when male director salaries are often kept under wraps. However, the numbers that are disclosed are staggering. Director of The Hangover franchise Todd Phillips reportedly makes $12 to $14 million per movie. Christopher Nolan, who directed the Dark Knight trilogy, reportedly received $20 million upfront for his war drama Dunkirk in the largest negotiation since Peter Jackson's same deal for King Kong. (It should be noted that 2005's Batman Begins, the first installment of the trilogy, made $48.7 million domestically its opening weekend, less than half of what Wonder Woman made.)
Simon Kinberg, producer of Deadpool, reportedly made $2 million upfront — which is double Jenkins' salary for directing Wonder Woman. In comparison, Angelina Jolie got $1 million for directing Unbroken in 2014 and Sam Taylor-Johnson got over $2 million for Fifty Shades in 2015. Both are seasoned directors.
While the pressure exists, it is nothing new for Jenkins and sure as hell isn't something she can't handle. "As far as making the movie is concerned, the first one was huge pressure too, of course it's pressure," the 46-year-old says. Rather than complaining, her actions do the talking. "What can you do? You just have to try," she adds. She's not only tried, she's blazed the trail.
And by acting as a living and breathing figure of equality, Jenkins not only directs an on-screen Wonder Woman, she is Wonder Woman.