Paul Dano Just Confirmed He & Zoe Kazan Are Parents With A Super Sweet Comment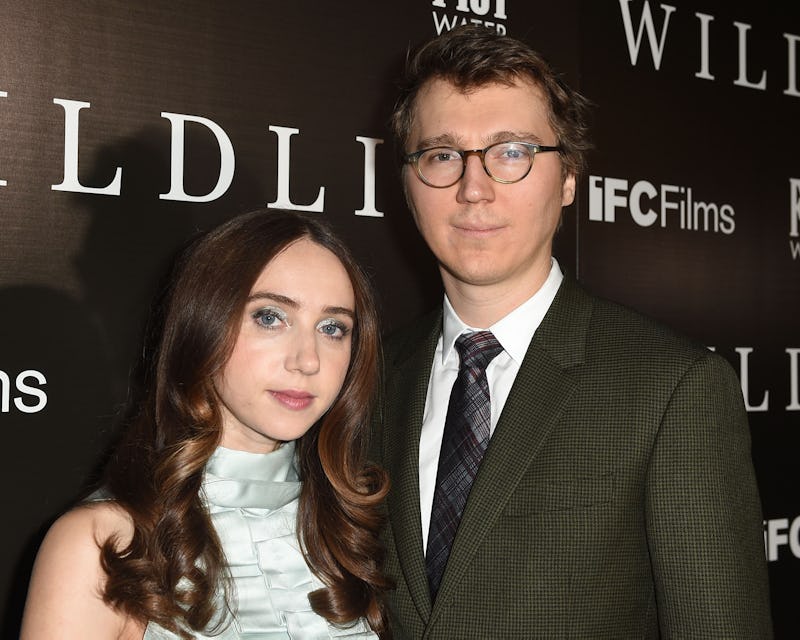 Joshua Blanchard/Getty Images Entertainment/Getty Images
Congratulations are in order! During Wednesday's The Tonight Show Starring Jimmy Fallon, Paul Dano confirmed he and Zoe Kazan welcomed a baby girl into the world eight weeks ago. Based on the way Dano talked about his daughter, it's safe to say he's never been happier or more in love with somebody in his life. Yeah, it's even sweeter than it sounds.
At the beginning of their chat, Jimmy Fallon said to the Wildlife writer and director (Kazan is also a writer of the film starring Carey Mulligan and Jake Gyllenhaal), "I want to talk about the movie, but even bigger congratulations, you had a little baby eight weeks ago."
Dano confirmed, "I did." Fallon continued, "She's gorgeous, by the way. What a beautiful, beautiful baby. How's it feel to be a dad?"
The Little Miss Sunshine star admitted, he's never been more exhausted, but it's the best kind of tired. He told Fallon,
"I'm so tired and I'm so in love. It's so extreme. Your heart has gone like supernova in one sense. And then we landed from London last week and she cried for like 24 straight hours and you kind of just want to walk through a wall."
New parents can probably relate to Dano's words about exhaustion and taking care of a newborn, just like they most likely understand what it's like to welcome a human being into the world and have your heart immediately expand. It sure sounds like Dano and Kazan are overjoyed to be parents.
In September, Page Six reported that Kazan had given birth to a baby. According to sources who spoke with the publication, Kazan gave birth at the end of August to a girl named Alma Day. Dano did not confirm or discuss his daughter's name while chatting with Fallon. At the time of Page Six's report, the couple also did not comment on the baby rumors. Dano's interview with Fallon is the first time the reports were confirmed.
On Aug. 31, Kazan tweeted the following that may or may not have been her way of talking about motherhood, in addition to gushing about the recent projects she made, including The Ballad of Buster Scruggs and Wildlife with Dano.
"Honestly this fall is already an embarrassment of riches for Paul and me, and it hasn't even really started yet," she wrote. "We have the perspective of many other years that were nothing like this, for which I'm also grateful."
Dano and The Big Sick star first met in 2007. You might not know it, but the two have been together for over 10 years and they currently live in New York. In a November 2016 interview with The Daily Beast, Kazan opened up about her relationship with Dano.
"He's tremendously important to me," she said. "I wasn't looking into getting into a decade-long relationship when I was 23, but he's my family now."
She also admitted to the outlet that getting married "isn't high on my list, we're not religious." But, the It's Complicated star said she's completely happy with Dano. "But it's really nice to make a life with him," Kazan said. "It's been surprising to me, how many benefits there are to being with someone for so long. I would not have guessed what it would feel like."
And now here they are as first-time parents to a daughter and they certainly seem to be as happy as ever.