Paul Manafort, Trump's Ex-Campaign Chairman, Has Officially Been Charged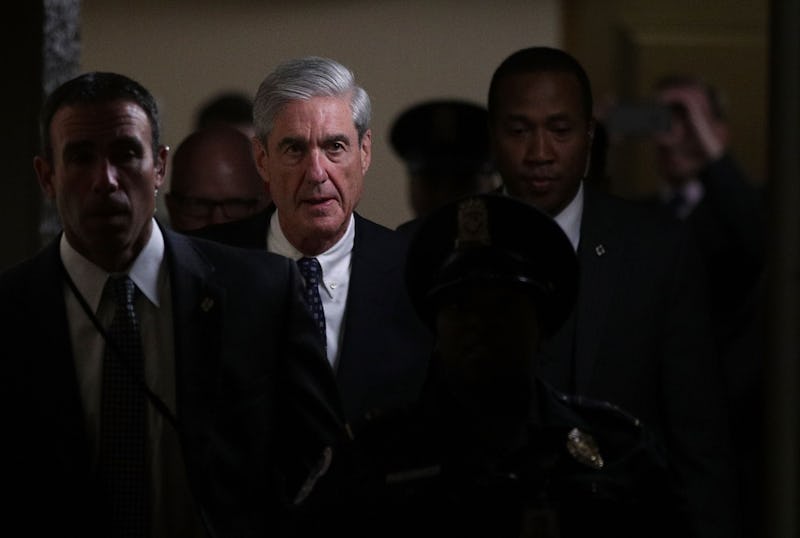 Alex Wong/Getty Images News/Getty Images
After a weekend of speculation, the wait is over. Special Counsel Robert Mueller has officially brought charges against Paul Manafort and Manafort business associate Rick Gates, the first indictments in the ongoing Russia investigation. CNN released a report on Friday that Mueller had filed an indictment against an unknown person in connection to the Russia investigation that would remain sealed until Monday, fueling a flurry of guessing who would be the subject of the indictment. Manafort has long been a main subject of this speculation, but it has now become clear that the Mueller investigation has enough information against him to bring charges. The New York Times reports that he has been told to surrender to federal authorities today.
Paul Manafort, former Trump campaign chairman, has been a known subject of Mueller's investigation since the news broke that his home had been raided in July in an FBI no-knock raid — implying that the FBI was seriously concerned that he would get rid of incriminating information if they so much as knocked on the door. It was then later reported that Manafort had also been wiretapped, and he later said himself that he expected an indictment to be coming.
Manafort has a network of shadowy connections to Russia, including over $60 million in deals with Russian oligarch Oleg Deripaska, who is quite close to Russian President Vladimir Putin. Manafort was also under investigation in New York for money laundering, and he has received over $17 million to do pro-Russian work in Ukraine. Manafort served as Trump's campaign chairman for three months beginning in May 2016, at the end of which he was forced to resign over his connections to the pro-Russian former Ukrainian president Viktor Yanukovych.
Rick Gates, the man charged along with Manafort, has been a partner and protege of Manafort's for years, often working on the same political and business projects in far-flung nations around the globe. He then worked on the Trump campaign even after Manafort was forced out, even holding a position on the inaugural committee. By March, though, Gates had to leave his job at a pro-Trump lobbying group because of questions raised about Russia's role in the 2016 election; by June, his name was already swirling alongside Manafort's as a potential subject of Mueller's Russia investigation.
While it still is not clear exactly what the charges will be, CNN has already reported that Manafort plans to turn himself in today; there is no word on Gates' reaction. Mueller's charges could relate to alleged federal tax law violations or money laundering, among other things, as Manafort was also being investigated over his failure to properly disclose his extensive foreign lobbying activities. Some had speculated that an indictment of Manafort could be a strategy to "turn" him against Trump in exchange for a deal, but White House lawyer Ty Cobb maintains that Manafort has nothing to offer prosecutors that could be damaging to Trump.
The claims of Mueller's capacity to be an efficient investigator have now been borne out, as this indictment comes less than six months after Deputy Attorney General Rod Rosenstein appointed Mueller. President Trump has remained adamant that the investigation is a "witch hunt" that won't turn up anything on his team, and this weekend saw him frantically tweeting about "phony Trump/Russia 'collusion,' which doesn't exist." The White House has been trying to distance Trump from Manafort since March, when the news broke that Manafort had done business with Putin associate Deripaska.
Trump has not yet commented on Manafort's indictment, on Twitter or otherwise. He still denies that any collusion took place between his campaign and the Russian government, and even that Russia did influence the 2016 election, even though American intelligence agencies are united in the conclusion that Russia did in fact interfere in the election on behalf of Trump. Manafort and Gates' indictments are surely only the first major public step in an investigation that still has a lot more to cover.