The Dude Who Wants To Replace Paul Ryan Proudly Calls Himself "Pro-White"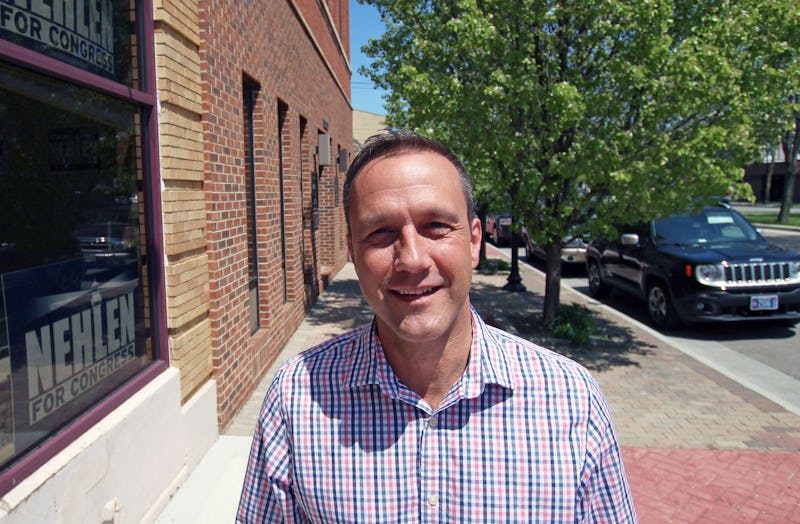 Carrie Antlfinger/AP/REX/Shutterstock
The man who is currently leading the race among Wisconsin Republicans to replace Paul Ryan has quite a history of controversial statements. Self-described "pro-white" candidate Paul Nehlen has thrown his hat into the ring as a contender for the GOP primary, and so far he's garnering some support. However, there's a lot of differences between Nehlen and the outgoing speaker of the House — including his use of explicitly white supremacist language.
Nehlen first attempted to challenge Ryan for his seat in 2016. His campaign didn't really get much support, though some of it did come from high places — including an endorsement from Sarah Palin and a tweet from none other than Donald Trump himself, thanking Nehlen for his support. Wisconsin's voters evidently found Nehlen's views too conservative, though, and Ryan ended up winning with over 80 percent of the vote.
Nehlen campaigned on a far-right platform, saying, among other things, that "we should be monitoring every mosque" and that he was open to the idea of deporting all Muslims. But his slurs against entire religious groups didn't stop with that platform. BuzzFeed reported that he he has made white supremacist statements on social media and some anti-Semitic comments against the "Jewish media."
He's repeatedly tweeted — and sometimes deleted — comments about alleged Jewish control of the media and referenced the "JQ," or "Jewish Question," according to The Atlantic. That's a phrase that current-day white supremacists use to discuss their belief that a secret Jewish cabal somehow controls the world. Those who have studied the history of the Holocaust, though, will also recognize it as the issue that the Nazis were trying to "solve" when they designed their so-called "Final Solution."
You can't scroll through Nehlen's tweets yourself, because his account was permanently suspended after he posted a racist tweet aimed at actress and future royal Meghan Markle. However, The Atlantic gathered numerous statements that he made about Jews on Twitter.
"Jesus is the Messiah. He is One with the Father and the Holy Ghost. Jews (and others) who do not acknowledge this fact will burn in hell," he once tweeted, in what The Atlantic described as an example of him attempting to use Christianity to promote white supremacism. "Poop, incest, and pedophilia. Why are those common themes repeated so often with Jews?" another tweet reportedly read. The Atlantic noted he once posted (and later got rid of) a series of tweets that featured pictures of media executives at numerous outlets with Stars of David above their faces, asking if his followers could see what the executives all had in common.
Nehlen also reportedly retweeted celebratory posts about the alt-right Charlottesville rallies and the Pizzagate conspiracy theory. The Atlantic noted that he described himself in a tweet as not a white supremacist, but merely "pro-white" — and then in another tweet, he made it clear that he did not consider Jews to be white. Even right-wing media outlet Breitbart News has distanced itself from Nehlen because of his "clearly anti-Semitic and white nationalist comments."
The Wisconsin GOP, for its part, has made it clear that Nehlen and his extreme views are not welcome in the party. "Nehlen and his ideas have no place in the Republican Party," said state GOP spokesman Alec Zimmerman. State Assembly Speaker Robin Vos said, "it looks to me like [Nehlen's] a racist bigot," according to the Wisconsin State Journal.
Despite all this, Nehlen remains the frontrunner in the Republican primary. If he does win, he'll face an uphill battle against likely Democratic candidate Randy Bryce, the nationally popular "Iron Stache."