Paul Ryan Probably Regrets Taking This Photo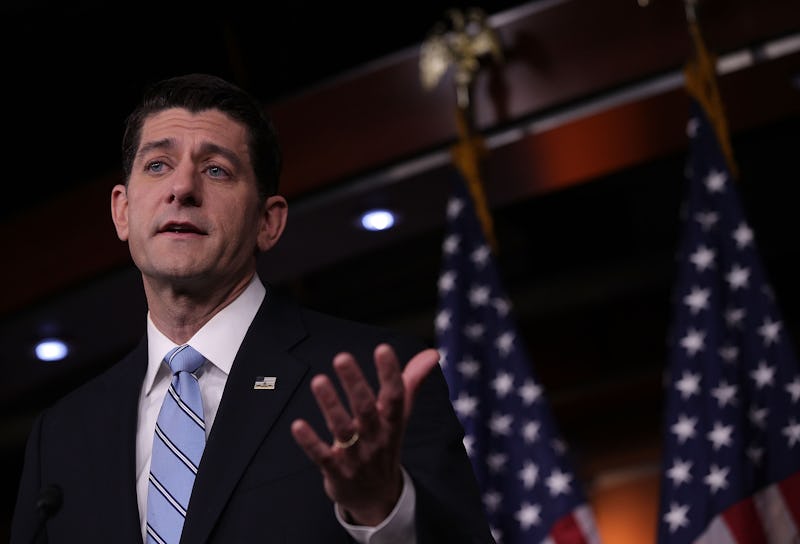 Alex Wong/Getty Images News/Getty Images
If you're a politician posing for a picture with a supporter, you should probably first make sure that they are, indeed, a supporter. The Speaker of the House seemingly forgot to do this over the weekend, when he inadvertently struck a pose with a man wearing a pro-Obamacare, anti-GOP shirt. The picture of Paul Ryan posing with the anti-AHCA shirt-clad man quickly went viral, and it serves as a nice microcosm of the GOP's approach to the horribly unpopular American Health Care Act, which it pushed through Congress days earlier.
While attending a Kiwanis Pancake Day event in Racine, Wisconsin, Saturday, Ryan smiled and grinned while striking a pose with a fellow attendee. But it seems Ryan didn't read the man's shirt: "'Repeal and Go F*ck Yourself' — The GOP," it said. That, of course, is a reference to the Republicans' "repeal and replace" strategy, which the GOP has long advocated with regard to Obamacare.
The satirical version of the phrase was coined on the podcast Pod Save America, hosted by former Obama administration officials Jon Favreau, Jon Lovett, and Tommy Vietor. The man wearing the shirt told Bustle that he did not wish to be identified beyond his Twitter handle, @minnysconsin.
In addition to being an embarrassment for Ryan, this picture is an apt metaphor for the GOP's larger strategy toward health care policy.
The AHCA is a hideously unpopular piece of legislation. Only 17 percent of Americans support it, which means even the majority of self-identified conservatives don't like it. As a result, Republican lawmakers who supported the bill have faced swarms of angry constituents at town hall meetings. The day before Ryan posed for that photo, Rep. Raul Labrador was shouted down at a town hall for insisting that "nobody dies because they don't have access to health care."
However, the massive public opposition to the bill hasn't made the Republican Party rethink the wisdom of voting for it. Rather than listening to their constituents' concerns, some Republicans have simply refused to hold town hall meetings at all, and despite its toxic approval rating, the party passed the bill in the House with the slimmest of majorities on Thursday.
Ever since winning unified control of the government in November, the GOP's basic strategy to health care policy has been to ignore how voters feel about repealing Obamacare — which the majority of Americans like — and repeal the law anyway. And that's essentially what Ryan did here: He ignored the guy's pro-Obamacare shirt, and posed for a photo with him anyway. It's almost poetic, except there's nothing poetic about stripping health insurance from 24 million Americans.