Paul Ryan Actually Just Called Trump A Troll On National TV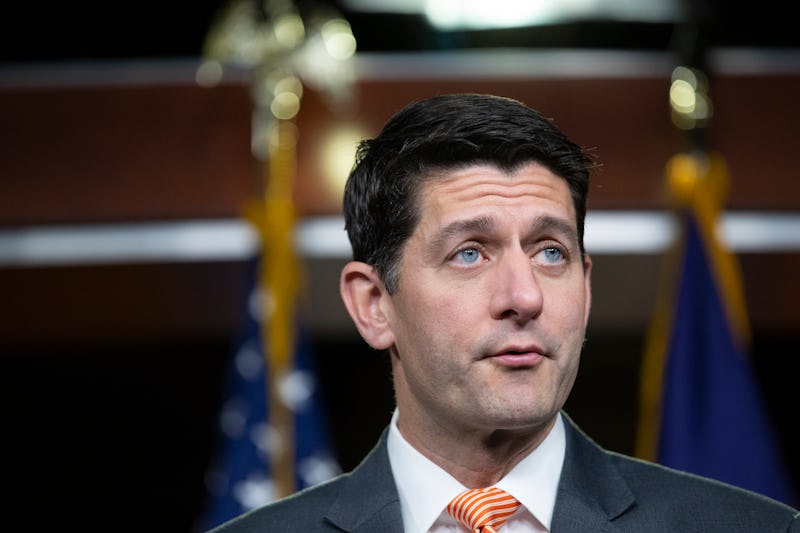 Alex Edelman/Getty Images News/Getty Images
The White House raised eyebrows on Monday when it revealed that President Trump, unhappy with the criticism his administration has taken from former U.S. intelligence officials, is considering revoking those officials' security clearances. But Trump's top ally in the House of Representatives isn't concerned: On Tuesday, Speaker of the House Paul Ryan said that Trump's threat to strip his critics' security clearances was merely "trolling."
"I think he's trolling people, honestly," a chuckling Ryan said Tuesday when asked if the president's threat was taking America down a "dangerous" road. "Uhh. This is in the purview of the executive branch, I think of these people already lost their clearances. Some people keep their clearances. That's something that the executive branch deals with. It's not really in our purview."
The meaning of "troll" has evolved over time, but broadly speaking, it refers to someone who says provocative, insulting or offensive things online in order to cause outrage and confusion. As MSNBC's Kyle Griffin points out, Ryan is essentially accusing the administration of being dishonest; trolling, after all, isn't something that's ever done in good faith.
White House Press Secretary Sarah Huckabee Sanders made the comments after Sen. Rand Paul called for Trump to revoke the security clearance of former CIA Director John Brennan, who called Trump "treasonous" days earlier due to the president's conduct toward Russian President Vladimir Putin.
During a joint press conference with Putin in Helsinki, Trump was asked whether he thinks Russia interfered in the 2016 presidential election. The CIA, FBI and National Security Agency released a joint report in 2017 in which all three agencies agreed that Russia did interfere in the election, but Putin denies any Russian meddling.
"My people came to me, [Director of National Intelligence] Dan Coats came to me and some others," Trump said at the press conference. "They said, they think it's Russia. I have President Putin; he just said it's not Russia. I will say this: I don't see any reason why it would be."
The fact that Trump accepted the word of Russia's president over that of his own intelligence agencies caused outrage amongst many, including several former top U.S. officials. Former Defense Secretary Chuck Hagel said that Trump "failed America" by siding with Putin, while former Director of National Intelligence Michael Clapper called Trump's comments "truly unbelievable" and suggested that the Russian government has incriminating information on Trump.
Trump initially walked back his remarks, telling reporters that he meant to say "I don't see any reason why it wouldn't be" Russia that interfered in the election. Days later, however, he said on Twitter that the investigation into Russian meddling is "all a big hoax," and Sanders confirmed Monday that Trump is "exploring" revoking the clearances of Brennan, Clapper and others who've criticized him over Russia.
"Not only is the president looking to take away Brennan's security clearance; he's also looking into the clearances of [James] Comey, Clapper, [Michael] Hayden, [Susan] Rice, and [Andrew] McCabe," Sanders said. "The president is exploring the mechanisms to remove security clearance, because they politicize and in some cases monetize their public service and security clearances."
The Washington Examiner reports that neither Comey nor McCabe have any security clearances to revoke. In an interview with CNN, Clapper called the White House's threat "petty," and noted that he doesn't have access to any classified information.
"This is kind of a petty way of retribution, I suppose, for speaking out against the president, which I think — on the part of all of us — are borne out of genuine concerns about President Trump," Clapper said.