Paul Simon Responds To Carrie Fisher's Death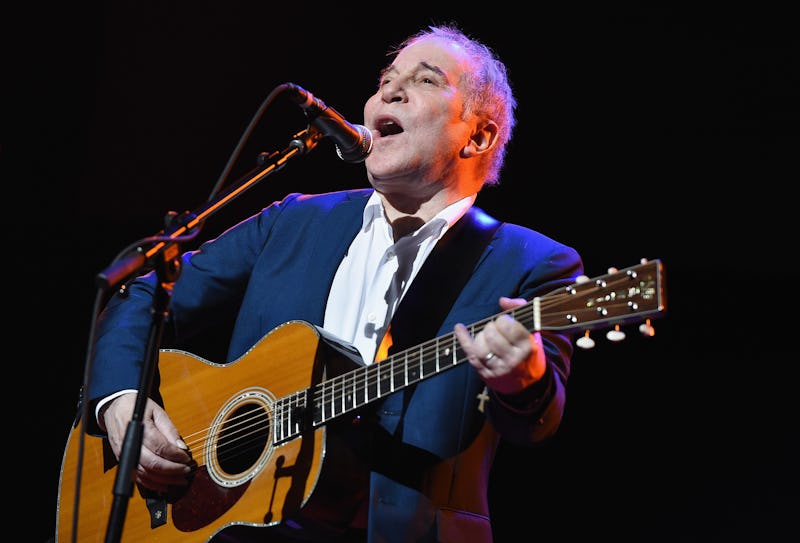 Theo Wargo/Getty Images Entertainment/Getty Images
One of the only silver linings to the aftermath of a tragic celebrity death is that you get to see how much that person meant to everyone else on the planet, and commiserate with other people mourning the devastating loss. That's how I feel about Paul Simon's statement on Carrie Fisher's death, anyway; I feel a bittersweet ache at how much he clearly loves her, which simultaneously warms my heart and makes it that much more painful that she's gone. As any fans of the late actress know, Simon was Carrie Fisher's one and only husband; the two were married for a year, from 1983 to 1984, but stayed together, dating on and off for a decade after the dissolution of their marriage. In fact, he even wrote songs that Fisher alleges were about her, and perhaps now is a good time to revisit those songs in light of their relationship and his beautiful statement.
The union between Fisher and Simon was, in a word, passionate, with extreme ups and downs described by almost everyone who knew them.Peter Ames Carlin, writer of Homeward Bound: The Life of Paul Simon, describes a powerful chemistry interspersed with frequent fights. "Carrie added velocity to his life; a kind of wild energy that often set him alight — and sometimes made him scream."
In short, it's the kind of complicated, layered relationship that defies labeling or definition. Even though the volatile pair weren't able to make a relationship work, Fisher and Simon meant the world to each other. That level of respect and love is inspiring to me, and it's fully on display in his statement on Fisher's untimely death, which he shared Wednesday via his Twitter.
I love that word, "special", because it feels like it contains everything about Fisher and her relationship with both Simon and the world. It makes no apologies, encompassing the hard times and the good times in one honest, appreciative package. And that doesn't surprise me, because that's the way Simon has always treated his time with Fisher in his music as well.
There are two songs in particular by the 75-year old musician that are about Fisher: "Hearts and Bones" and "She Moves On". Each paints a vivid picture of the vibrant force of nature Carrie Fisher was, without romanticizing the pain that their failed relationship caused.
I'm particularly fond of this set of lyrics from "Hearts and Bones":
Thinking back to the season before / Looking back through the cracks in the door / Two people were married / The act was outrageous / The bride was contagious / She burned like a bride
I'm not crying, you're crying. And I'm not the only person who was emotional affected by Simon's lyrics, either. Carrie Fisher shared in her memoir Wishful Drinking that she recognized herself in "She Moves On", specifically the lyric, "she says 'Maybe these emotions are as near to love as love will ever be'". She also added: "If you can get Paul Simon to write a song about you, do it, because he is so brilliant at it." My heart.
It's a bizarre thing to say about a relationship that ultimately did not and could not last, but the care and respect these two treated each other with after their romantic pairing ended is right up there with my biggest relationship goals.