Was Carrie Fisher Married?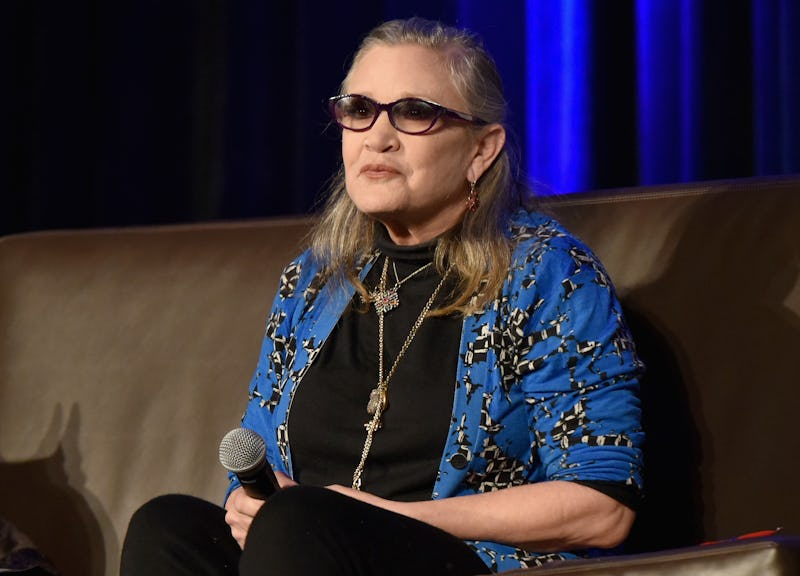 Daniel Boczarski/Getty Images Entertainment/Getty Images
Tuesday has been a devastating day for Star Wars fans, following news that Carrie Fisher has died at the age of 60. The actor went into cardiac arrest while traveling between London and Los Angeles on Friday, and, despite being rushed to hospital as soon as her plane landed, she passed away on Tuesday morning. Fisher is survived by her daughter, Billie Lourd, who plays Chanel No. 3 in Scream Queens and had a small role in Star Wars: The Force Awakens. But did the author of The Princess Diarist have any other family? Was Carrie Fisher married?
The family publicist released a statement to Bustle saying, "It is with a very deep sadness that Billie Lourd confirms that her beloved mother Carrie Fisher passed away at 8:55 this morning. She was loved by the world and she will be missed profoundly." Fisher wrapped filming on Star Wars: Episode VIII in the summer of 2016, meaning that she's left a very real legacy behind her, and fans will have the chance to watch her on the big screen as General Leia once more. But did Fisher have a spouse at the time of her death? Her relationship history was often tumultuous and unpredictable.
At the time of her death, Fisher wasn't married to anyone. She'd previously been married twice. Her first husband was the musician Paul Simon, though the couple split up in 1984, a year after getting married. Her second partner was talent agent Bryan Lourd, with whom she had daughter Billie. Fisher and Lourd also separated.
More recently, Fisher revealed in her book The Princess Diarist that she'd had an affair with Harrison Ford on the set of Star Wars, describing their relationship as "intense" to People.
As Princess Leia, Fisher captured the hearts of viewers all over the world, and she will be sorely missed. Her acting and writing are a lasting legacy that she leaves behind, which fans will cherish for years to come.
Editor's Note: A previous version of this article incorrectly referred to Bryan Lourd as Carrie Fisher's second husband. They were never married. It has since been updated.