Cabinet Members Were Supposed To Get $10,000 Raises — But They've Been Frozen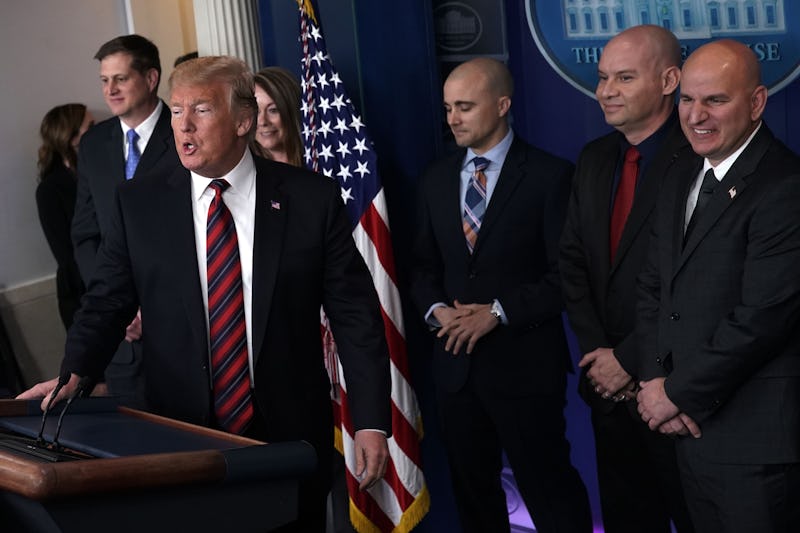 Alex Wong/Getty Images News/Getty Images
Seems like Vice President Mike Pence won't have to turn down that pay raise after all. The Trump administration froze raises for Cabinet members and the vice president late Friday, according to The New York Times. Despite a partial government shutdown, which has furloughed hundreds of thousands of federal employees, senior Trump administration officials were scheduled to receive an annual raise of roughly $10,000 on Saturday.
In a memo CNN reported was circulated to federal agencies on Friday, acting director of the Office of Personnel Management (OPM) Margaret Weichert said that OPM "believes it would be prudent for agencies to continue to pay these senior political officials at the frozen rate until appropriations legislation is enacted that would clarify the status of the freeze." According to CNN, OPM will issue new guidance on pay raises once Congress has issued new or updated legislation.
In failing to pass a spending deal that would have kept the government open last month, Congress also failed to enact legislation that would have extended a freeze on annual pay raises for top level Trump administration officials, including Pence, Cabinet secretaries, deputy secretaries, and ambassadors. According to The New York Times, language extending the pay raise freeze was slipped into multiple spending deals introduced in the House and Senate. None of those bills, however, were passed before government funding, nor the freeze on pay raises, lapsed.
It's worth noting that Pence nodded "yes" when asked if he would voluntarily turn down the raise during a press conference in the White House Rose Garden on Friday. It's unclear, however, if any other Trump administration officials would have taken the raise offered as an unintentional consequence of the shutdown.
Earlier in the day on Friday, White House Press Secretary Sarah Huckabee Sanders had told the Associated Press that the White House was "aware of the issue" regarding the expiring pay raise freeze. She said the administration was "exploring options to prevent this from being implemented while some federal workers are furloughed."
At Friday's presser, President Donald Trump said he "might consider" asking administration officials set to receive a raise when the initial freeze expired Saturday to reject it in light of the shutdown, CNN reported.
While some top-level Trump administration officials were poised to receive a significant raise before OPM directed federal agencies to continue the freeze amid the shutdown, President Trump nixed a planned pay raise for federal workers last week. According to The Hill, Trump claimed the federal budget couldn't support a planned 2.1 percent pay raise for federal employees set to take effect in January and thus, nixed the across-the-board raise via an executive order. In fact, the president characterized the raise as "inappropriate" in a letter he sent to Congressional leaders in August, CNN reported.
According to the Senate Appropriations Committee, a partial government shutdown that began Dec. 22 when Trump announced he would veto any spending bill that did not include the roughly $5 billion he wanted for a border wall is expected to force some 420,000 employees to work without pay while another 380,000 are furloughed.