People Have Raised $10,000 For Planned Parenthood In Tucker Carlson's Name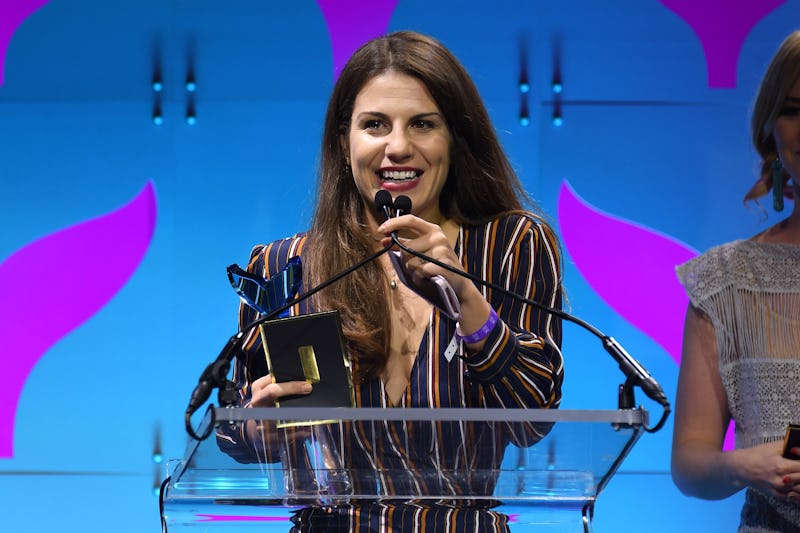 Dave Kotinsky/Getty Images Entertainment/Getty Images
When Teen Vogue writer Lauren Duca went on Tucker Carlson's Fox News show late last year to discuss President-elect Donald Trump and his daughter Ivanka, the host told her she should "stick to the thigh-high boots," a topic she had also previously written about. Like many feminists before her, Duca turned that suggestion right around into an empowering statement when she began writing a weekly "Thigh-High Politics" newsletter for Teen Vogue. And thanks to her collaboration with The Outrage to sell a "thigh-high politics" line, Duca has donated $10,000 to Planned Parenthood in Tucker Carlson's name.
The line includes a pink or white tank top ($32), tote bag ($20), and a white T-shirt ($32), that all say "I like my politics thigh-high," and were designed by artist Peter Breese. According to Teen Vogue, 100 percent of the proceeds of the merchandise goes to Planned Parenthood, and they have already raised $10,000.
Duca's decision to donate the proceeds to Planned Parenthood highlights the ongoing feud between the writer and the Fox News anchor.
Duca appeared on Carlson's show after her Teen Vogue op-ed about Trump, "Donald Trump Is Gaslighting America" went viral in late 2016. In the piece, she argued that President-elect Trump had manipulated the truth in order to win the election and trust of voters. Carlson had Duca on his show to discuss an incident after the election, in which a plane passenger yelled at Ivanka in front of her children during a flight.
Carlson questioned her about two tweets she sent in response to the situation which read "Ivanka Trump is poised to become the most powerful woman in the world. Don't let her off the hook because she looks like she smells good" and "Ivanka HAS IT ALL, & by that I mean, 'a job, family, and sinister complicity in aiding the most aggressively anti-woman candidate of our time.'"
Carlson also read Duca's previous bylines for Teen Vogue, which included pieces on Ariana Grande's thigh-high boots and One Direction. Duca called Carlson a "partisan hack" for repeatedly interrupting her and delivered the now-famous line: "A woman can love Ariana Grande and her thigh-high boots and still discuss politics. Those things are not mutually exclusive."
In June, Carlson brought up Duca on his show once again to discuss "The Problem With Lauren Duca," in which he attacked her writing and her profile in the New York Times, and took credit for her popularity, saying, "Every time we mention Duca on this show, she gets more and more famous and more revered on the left. Maybe next week she'll be honored by the pope and the Dalai Lama. If we mock that, she could get the Nobel Prize for Literature. Fifteen years from now we could be making fun of President Lauren Duca."
All in all, donating profits to Planned Parenthood in Carlson's name is an excellent way to do some good and get a jab in at the conservative host who has ridiculed her on air multiple times.