Pete Davidson Just Got A Tattoo That's IDENTICAL To One Of Ariana Grande's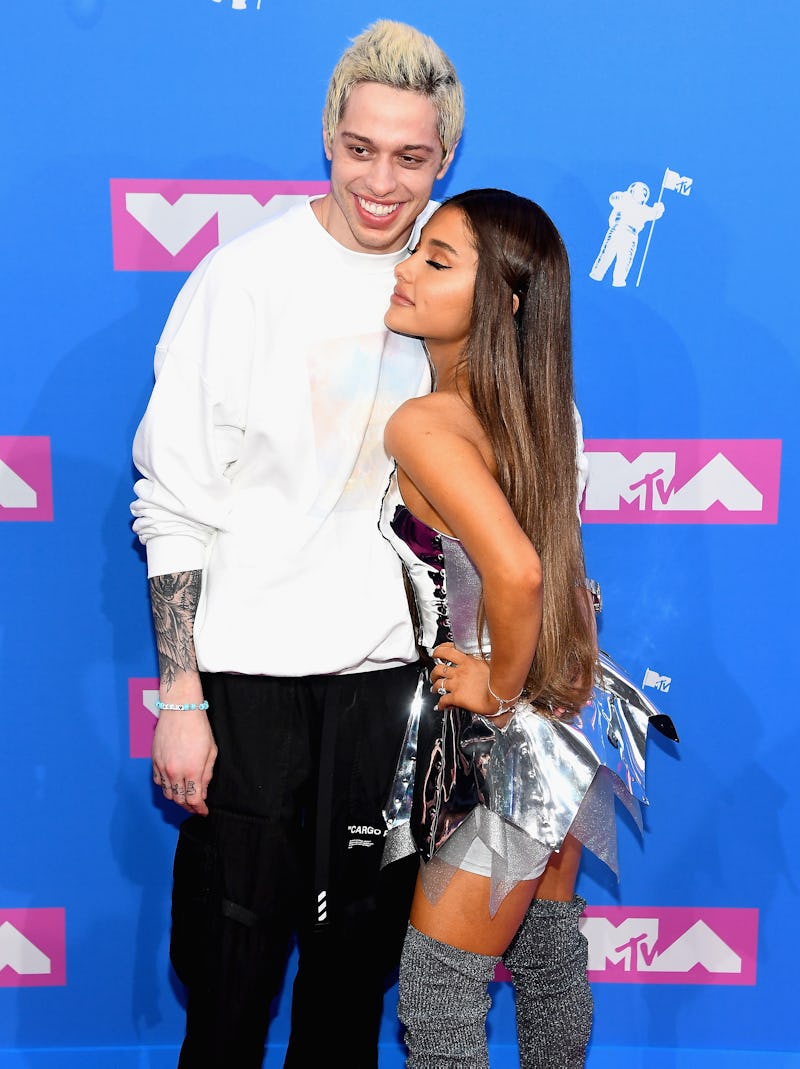 Nicholas Hunt/Getty Images Entertainment/Getty Images
As if being engaged to your BFF couldn't be any more of a score, inking on matching tattoos really sets the tone before saying "I do." Having one sleeve already completed and the other half-way there, Pete Davidson's newest tattoo is an exact replica of the one on his pop star fiancé. By the looks of his arms, it's pretty apparent that Davidson has never been a stranger to tats, and since the start of his engagement to Grande, he's been packing them on thick with sentimental value.
From the Dangerous Woman black bunny ears mask behind his ear to the more recent "Grande" tattoo along his ribcage, it's evident that Davidson enjoys showing his love for the Sweetener singer in the most millennial-esque way possible. Love is pain, but it looks so adorable when it's etched in skin.
While he strolled through the streets of the Big Apple, photographers caught wind of Davidson's latest Ari-inspired tat that was first seen on her in 2014. Shooting a photo of the back of his neck, paparazzi gave us a glimpse at the new tattoo that says, "mille tendresse," meaning "a thousand tendernesses" in French. Not only does it read the same as Grande's, but it's also placed in the exact same spot on the back of their necks. Who doesn't love a guy's more sensitive side?
The phrase is derived from the romantic classic film (and Grande's all-time fave) Breakfast at Tiffany's when Audrey Hepburn's character, Holly, said "Bless you, darling Fred. Please forgive the other night. You were an angel about the whole thing. Mille tendresse."
Although this news sounds sweeter than sweetener, this isn't the first of the couple's matching tattoos. Back in May when the two had first started dating, there was speculation that they'd intentionally gotten tattoos of a mini cloud on their middle fingers. Additionally, in June Grande shared an Instagram Story of another matching tat. It revealed her and Davidson's new ink that reads "H2GKMO," which allegedly stands for "honest to God knock me out," according to fans. Grande has even used the phrase on Twitter multiple times.
The couple began dating publicly in May, and since then, this is the fourth known tattoo Davidson has had done in reference to Grande. The pop singer has also returned the tat love to Davidson, honoring his father's passing on 9/11 with the numbers "8418". Anyone else in the mood to stream the Sweetener track "Pete" on repeat for a whole day?
While this probably isn't the last of Davidson's collection of Ari ink, our eyes are always peeled for the next hidden message behind his tattoos. If these heart-warming public displays of affection are any indication of a happy marriage, tat me all the way up.
Hopefully, for now though, we can just wait anxiously for the couple's matching Halloween costumes that we crave will come in the (very) near future. Who knows? Maybe they'll think about saving some of their skin for a new tat on Honeymoon Avenue.