Pete Davidson Got A New Ariana Grande Tattoo With A Very Personal Connection To The Singer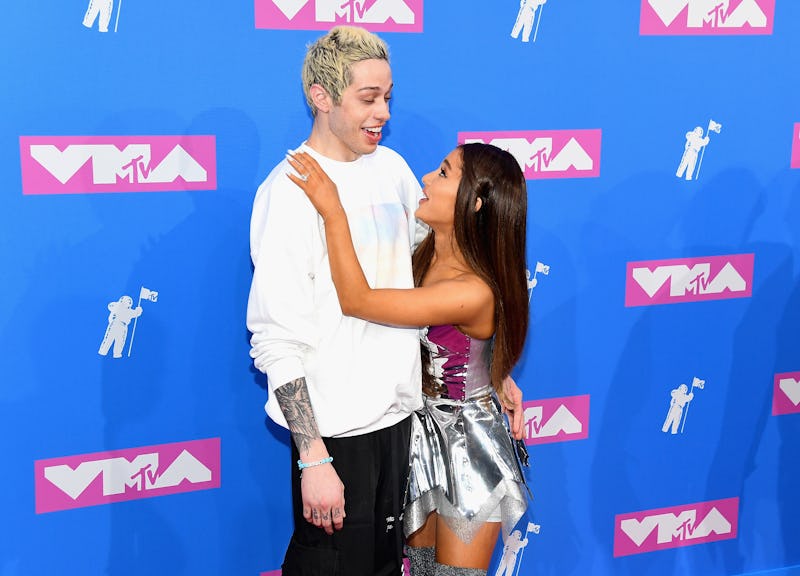 Nicholas Hunt/Getty Images Entertainment/Getty Images
A couple that dedicates numerous tattoos to their relationship is destined for a lifetime of happiness, right? Well, at least that's the path Ariana Grande and Pete Davidson seem to be on. Recently, the comedian and SNL alum sported some ink that has a very personal connection to his fiance, and Pete Davidson's new Ariana Grande tattoo is the one that shouts his love for the singer from the roof tops.
While at the John Elliott show during New York Fashion Week, recent photos of Davidson revealed the ink etched on top of his rib cage — "Grande." It's pretty simple, but the most "in your face" tattoo the multi-hyphenate has shared with the world, ultimately proving just how committed he is to the Sweetener artist. Oh, and it holds a special meaning to Grande's close knit family, as well.
During a recent interview with Beats 1 Radio, Grande chatted about all-things Sweetener, her upcoming marriage to Davidson, and in relation, whether or not she plans to take the comedian's surname as her own. The singer explained, however, that dropping Grande completely isn't really an option for her, as the name is just too important. She said, "I have to keep 'Grande' because of my grandpa. I think of him with everything I do. And he was so proud of our name that I should keep it. Imma keep it." And Davidson's newest ink totally suggests that he's holding the family name in high regard, as well.
The photos of Davidson's tattoo don't do it any justice. From afar, it just looks like another piece to art to his evergrowing collection. But, once digging into the potential meaning behind his "Grande" tattoo, it's clear that it's much bigger, and more serious, than ink. With this, Davidson showed that the Grande name now holds extreme importance to him, too. And it's the ultimate sign that he sees himself being apart of the Grande click for years to come.
Grande and Davidson first introduced their courtship to the world May 30, stamping their relationship with the "social media official" seal in an adorable Instagram post. Since, the pair have let fans in on the cutest moments from their journey to the alter — from interviews talking about their relationship, to Grande entitling a track on her fourth studio album Sweetener "Pete Davidson." It totally seems like a whirlwind romance, as their engagement announcement came shortly after the world learned of their coupling. But, one things for sure, the two are totally head over heals in love with one another.
Just as Davidson is sporting ink dedicated to Grande's family, the "No Tears Left to Cry" artist also has a tattoo that holds special meaning to the Davidson clan as well. At first glance, some fans assumed that Grande's ring finger tattoo, which reads "Pete," is of her fiance's name, while others are convinced that it's an ode to the comedian's father, a firefighter who died during the 9/11 terrorist attack. If true, the singer's finger tattoo is another semblance of how much love and respect the pair have for, not only, one another, but the families they'll soon be legally bound to. And nothing really says "I'm committed to you forever" more than that.