Pete Davison's Response To Kanye West's 'SNL' Performance Was Right On Point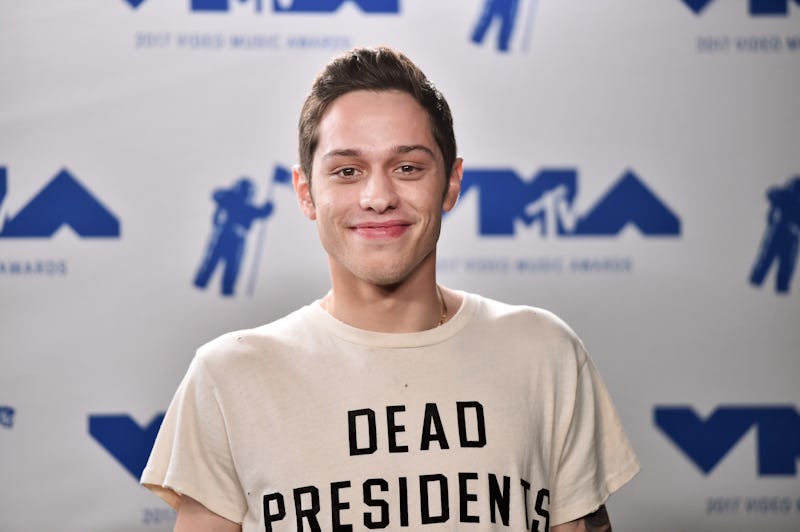 Alberto E. Rodriguez/Getty Images Entertainment/Getty Images
SNL is no stranger to making fun of the news, but what happens when SNL is the news? Pete Davidson appeared as himself on SNL's Weekend Update to talk about his experience being on the SNL stage during Kanye West's post-show rant to the audience. Pete Davidson's comments for Kanye West talked about his disagreement with West's political views, but also touched on mental illness and spoke to the positive effects of taking medication to helps with one's mental health.
"Speaking strictly for myself, what Kanye said after we went of the air was one of the worst, most award things I've ever seen here — and I've seen Chevy Chase speak to an intern," Davidson said, before showing footage of himself leaving the SNL stage mid-rant because he "wanted a career."
At the end of his segment, which featured him touching on Kanye's beliefs that slavery's "not real" and other opinions that would upset "people like your wife or every black person ever," Pete Davidson started tackling Kanye's insistence that he was being the "real him" during his post-SNL speech, equating being "the real him" with being off his meds. Davidson, who admitted that he, too, was on meds, encouraged Kanye to "Take 'em!"
"I'm on 'em!," Davidson continued, "It's great! Take 'em, there's nothing wrong with takin' 'em. If I ever got on a plane and the pilot said 'I just want you all to know this is the real me flying,' I'd jump out!" Davidson's endorsement of medicating on SNL serves as a platform to not just destigmatize medication itself, but also showed Davidson attempting to dispel the idea that an unmedicated person is more "authentic" than someone on medication, as Kanye's words seemed to communicate.
"Being mentally ill is not an excuse to act like a jackass," Davidson said, "I'm quoting my therapist, my mom, and my mailman. Sorry, Carl. No, seriously, one time I stopped taking my meds and I bit my Mom. No, it's all good, I bought her a house."
Before signing off on Weekend Update, Davidson did hint that there was one way that Kanye West could win his love back after his pro-Trump actions. Davidson, communicating in a way that "Kanye understands," donned a red MAGA-style hat that read "Make Kanye 2006 Again." Davidson, like many Kanye West fans, likely have difficulty seeing that the Kanye West who once said "I say f--k the police, that's how I treat em / We buy our way out of jail, but we can't buy freedom" in 2004 is the same person who is using the SNL stage to show support for Donald Trump.
Davidson's segment was primarily about wrestling with what happens with one of the world's biggest stars hijacks his stage to say things he didn't agree with. But it was also a good reminder of why it's so important that more people talk about their own experiences with mental health issues and medicating them — just think of how many less awkward SNL sketches there would have to be.