Pete Davidson's 'SNL' Joke About Swapping Ariana Grande's Birth Control Is Sparking Backlash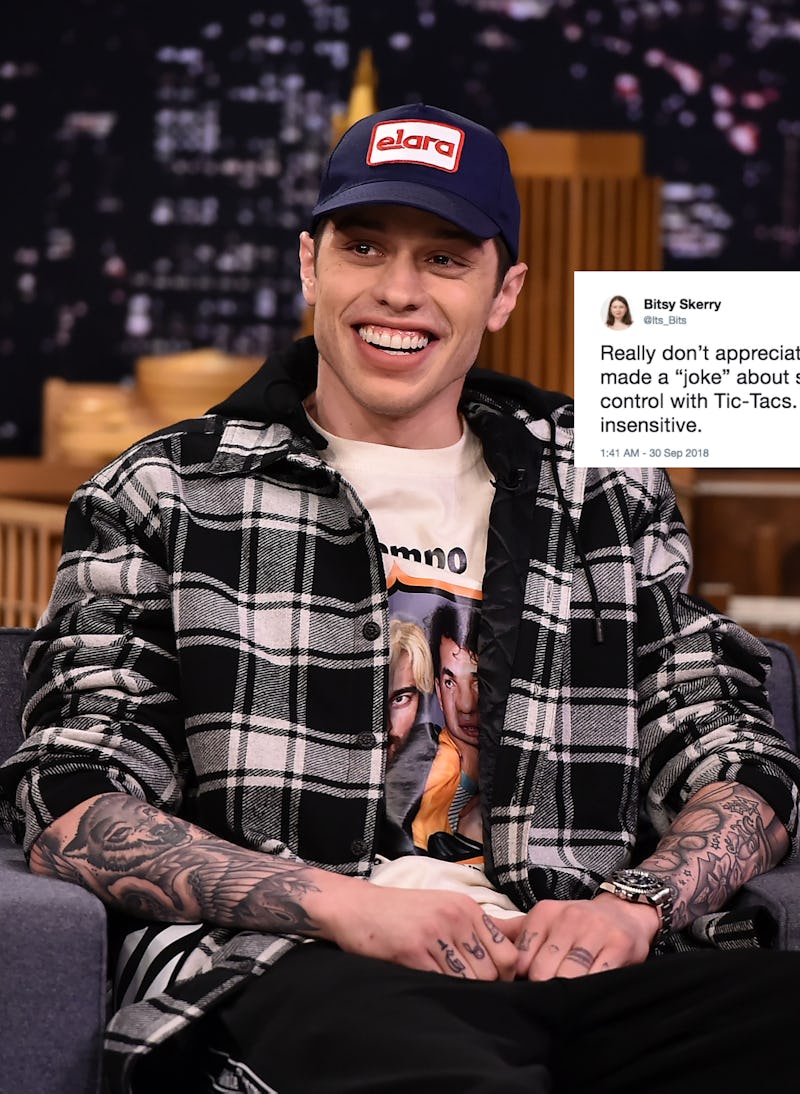 Theo Wargo/Getty Images Entertainment/Getty Images; Its_Bits/Twitter
Pete Davidson is known for the inappropriate jokes he makes on Saturday Night Live, but now, he may have taken things too far. On Saturday night's episode of SNL, Davidson joked about replacing Ariana Grande's birth control with Tic Tacs, and many people have taken to Twitter to share their outrage about his comment. (Bustle reached out to Davidson and Grande's reps for comment on the situation, but did not receive an immediate response.)
While appearing on the Weekend Update sketch alongside Colin Jost, Davidson was sharing details about his relationship with Grande. He made a few of the usual jokes — stuff about the fan reaction to the fact that they're engaged, self-deprecating comments about what it's like to be with someone so successful, and jokes about their potential prenup.
Then, when he was talking about how men don't need to be the breadwinner in the relationship, he also had to share his strategy for making sure that Grande stays with him so he can continue living rent-free in her apartment.
"Last night, I switched her birth control with Tic Tacs," he said. "I believe in us and all, but you know, I just want to, like, make sure that she can't go anywhere."
Of course, Davidson is joking, but tampering with birth control so someone can't leave you is a very serious subject, and many people didn't find it funny.
Since SNL aired, many people have share their feelings on the subject on Twitter. Much of the response to Davidson's Weekend Update sketch has been angry, especially because of the world we live in today — and the fact that this just so happens to be the same week that Christine Blasey Ford testified about her sexual assault allegations against Supreme Court nominee Brett Kavanaugh. (Kavanaugh has denied the claims repeatedly.)
Others pointed out that sabotaging a woman's birth control is an abuse tactic that some men use with their partners, and that it's not OK to joke about it, or else it could end up being normalized.
Some were upset that Davidson's offensive segment took time away from host Adam Driver's sketches:
And someone else pointed out that this, in addition to other things Davidson has said or joked about in the media recently, could mean that he's not the right choice for Grande to spend the rest of her life with.
And still others were simply disgusted by the fact that Davidson would joke about birth control at all.
Obviously, Davidson meant his birth control comment as a joke, but it's easy to see why that joke crossed a line for many people. Even though it's 2018, women's reproductive rights are still up for debate, so it's no wonder that hearing someone even suggest the idea of tampering with his future wife's pills as a way to keep her "trapped" with him has struck a nerve.
So far, Grande has yet to comment about Davidson's joke, and of course, her opinion is the one that matters most here. Regardless of what's going on with her birth control, her choice to stay with him is, and should remain, her own.