If You're Not Following Peter From 'Deadpool 2' On Twitter, You're Missing Out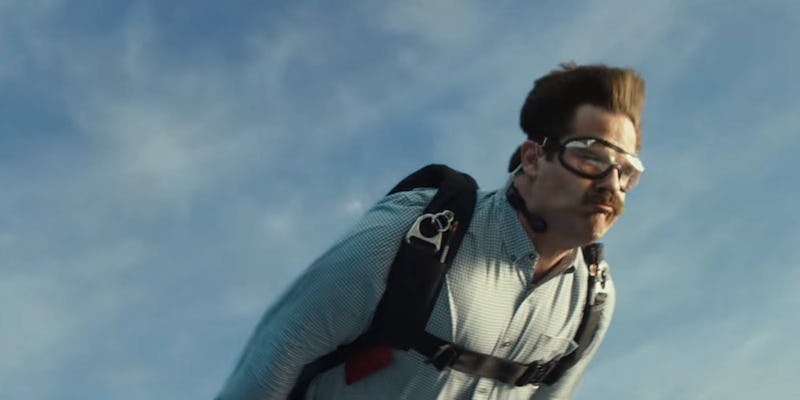 20th Century Fox
Soon after the first official Deadpool 2 trailer dropped, fans found a surprising new favorite character: Peter. Unlike the rest of the mutants and assassins who come to try out for the X-Force, Peter's just a regular guy who shows up because he "saw the ad," and instantly lands a spot on the squad. Fans quickly dug up all the information they could on the upbeat office worker, and soon discovered that Peter from Deadpool 2 has a Twitter account. Of course, it's equal parts adorably normal and weird.
Peter began tweeting on March 24, 2018, apparently for the same reason he tried out for X-Force — following his wife Susan's advice to "shake things up a little". Joining a hit squad seems way more extreme than signing up for social media, but hey, Peter's putting himself out there and that takes just as much guts. He tweets regularly about his beloved bee keeping, the delicious comfort of Sketchers sneakers, and his pop-culture favorites.
There are a few rumors going around that someone else might be behind Peter's account. The frontrunner is comedian Rob Delaney, who looks extraordinarily similar to Peter, if mustache-free and a little slimmer (aka he plays Peter in Deadpool 2). When Bustle reached out to 20th Century Fox for an answer, the studio confirmed that "Peter runs the Peter's account – he can't afford a 'social media team' on his part-time member of X-Force salary." So it seems that Peter has been mentioning his wife's all-day gym training sessions are costing a mint, so if anyone knows of any freelance mercenary work, please slide into his DMs @PeterW_1974.
Here's just a small sampling of Peter's daily inspirations and tribulations, along with some of his favorite topics.