Peter Jackson Just Backed Those Claims That Harvey Weinstein Blacklisted Victims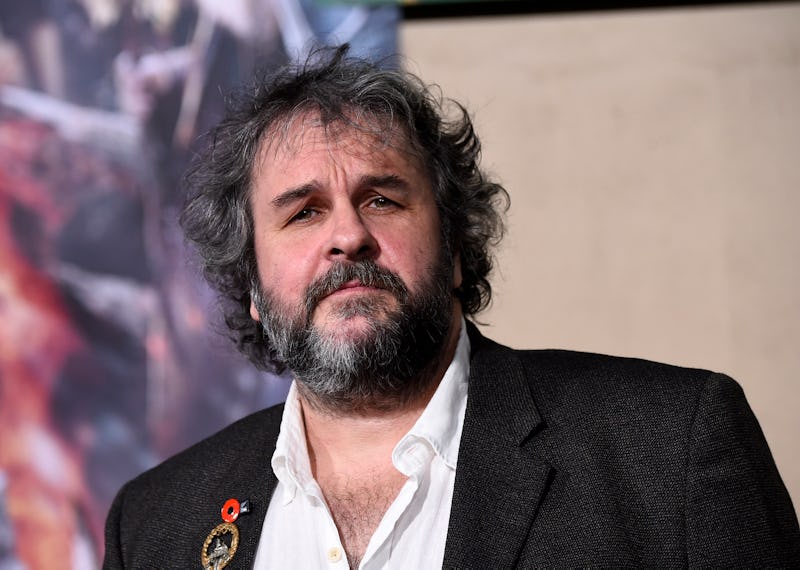 Frazer Harrison/Getty Images Entertainment/Getty Images
In the wake of all of the claims against the producer, a new one has come to light. Recently, Peter Jackson confirmed Mira Sorvino's Harvey Weinstein allegations. According to the actor, she was allegedly blacklisted in Hollywood by a Weinstein "smear campaign." Jackson alleges he remembers vividly an incident in the late '90s, when the Weinstein Brothers allegedly complained about Sorvino and her fellow actress Ashley Judd, effectively removing them from contention for the Lord of the Rings movies. In response to the story, a spokesperson for Harvey Weinstein said in a statement to Bustle:
"Mr. Weinstein has nothing but the utmost respect for Peter Jackson. However, as Mr. Jackson will probably remember, because Disney would not finance The Lord of the Rings, Miramax lost the project and all casting was done by New Line. While Bob and Harvey Weinstein were executive producers of the film they had no input into the casting whatsoever.
Secondly, until Ashley Judd wrote a piece for Variety two years ago, no one at the Company knew that she had a complaint and she was cast in two other films by Mr. Weinstein ('Frida' and 'Crossing Over') and Mira Sorvino was always considered for other films as well. There was no indication that Mira Sorvino had any issues until Mr. Weinstein read about the complaints in the news.
As recently as this year, Mira Sorvino called Mr. Weinstein and asked if her husband could be part of the SEAL television series [Six] he was producing and Mr. Weinstein cast him; when Christopher Backus received a better offer, Mr. Weinstein allowed him to amicably break his contact to pursue the opportunity."
However, Sorvino claimed in a guest column for The Hollywood Reporter that she "was not offered any movie roles past 1996."
Sorvino had also speculated about what she felt was her career derailment in the October New Yorker article that broke the allegations. When posting a tweet on Friday that linked to an article on the New Zealand news website Stuff with Jackson's confirmation of the alleged blacklisting, she said:
"Just seeing this after I awoke, I burst out crying. There it is, confirmation that Harvey Weinstein derailed my career, something I suspected but was unsure [of]. Thank you Peter Jackson for being honest. I'm just heartsick."
The Academy Award-winning star was one of four actresses interviewed for the New Yorker piece, who claimed their rejections of the producer had negatively affected their careers. Sorvino alleged that Weinstein had attempted to pressure her into a sexual relationship in 1994, allegedly inviting her to his hotel room during promotion for Mighty Aphrodite, the Miramax film for which she later won her Oscar.
She claimed he began by massaging her shoulders, "and then tried to get more physical, sort of chasing me around." She allegedly spurned his advances, and then found herself struggling to get roles post-Oscar, events that she felt were connected. "There may have been other factors," she told The New Yorker, "but I definitely felt iced out and that my rejection of Harvey had something to do with it." And these latest allegations from Peter Jackson lend support to her claims.
In the Stuff article Sorvino linked to in her tweet, the Lord of the Rings director alleges that it was Harvey Weinstein's "smear" of the actress that prevented Jackson from casting Sorvino in the fantasy series. Although he claims he had "no direct experience or knowledge of the sexual allegations," he remembers an alleged conversation with Bob and Harvey Weinstein that he claims referenced Sorvino and Judd by name and drastically changed the casting process for the Lord of the Rings films:
"I recall Miramax telling us they were a nightmare to work with and we should avoid them at all costs. This was probably in 1998. At the time, we had no reason to question what these guys were telling us, but in hindsight, I realize that this was very likely the Miramax smear campaign in full swing.
That year, 1998, would have been just three years after Sorvino won her Oscar, at a time when Judd's star was also rising. Both women went on to work many more projects in Hollywood — although Sorvino's career has had more TV movies than you'd expect from a performer who earned an Academy Award for her first major role.
In hindsight, Jackson claims, the alleged smear campaign is evident to him. He continued in the Stuff article, "I now suspect we were fed false information about both of these talented women — and as a direct result their names were removed from our casting list." These new allegations, if true, would represent a real tragedy in the entertainment world; no matter how many people speak up, who knows how much talent we've missed out on because of potential abuses of power.
If you or someone you know has been sexually assaulted, call the National Sexual Assault Telephone Hotline at 800-656-HOPE (4673) or visit online.rainn.org.