'The Bachelorette' Just Had An Incredible Conversation About Mental Health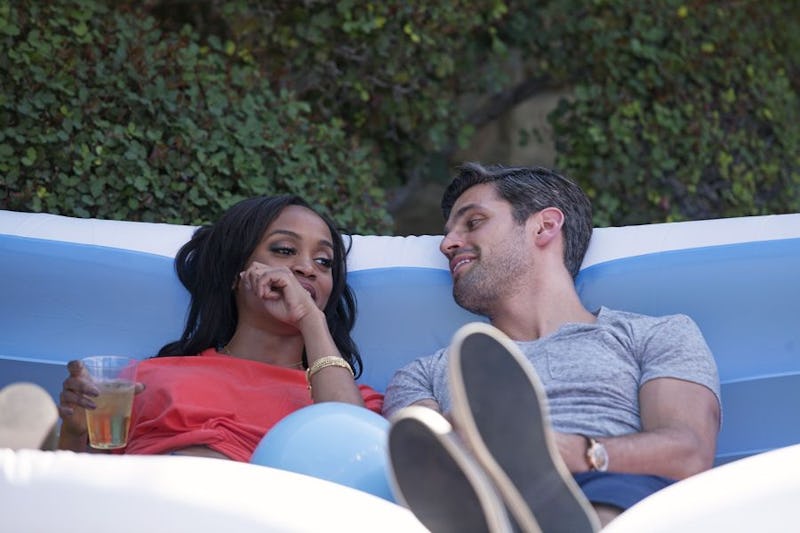 ABC/Scott Baxter
On tonight's episode of The Bachelorette, Rachel Lindsay and Peter demonstrated that they have a lot in common. They both love dogs (but then again, who doesn't?); they both have adorable gaps in their teeth that they've learned to love over the years. But more than anything else, the most heartwarming revelation on The Bachelorette was that Rachel and Peter have both gone to therapy in the past — and their open, candid conversation on TV about their experiences was an important step in normalizing mental health.
Going to therapy on a regular basis can be one of the most important and healthy choices a person can make; speaking from personal experience, I can say that it's helped me a lot. Despite how beneficial it can be, however, there's still a lot of stigma around seeking out treatment for mental health, in no small part because some still consider it shameful to discuss.
According to the Anxiety and Depression Association of America, anxiety disorders affect about 40 million adults in the United States, and only a third of those suffering have actually sought treatment for their symptoms. It becomes even more difficult to talk about therapy across different racial divides; as ATTN notes, black people and especially black women like Rachel are less likely to seek out mental health support, as many within African-American communities still do not trust those in the medical profession after decades of abuse and marginalization.
That Peter and Rachel were so willing to speak openly on national television about receiving therapy — and that they were both so supportive of one another's efforts to better themselves — was a refreshing change of pace. And of course, fans on Twitter certainly appreciated the effort.
Obviously, Peter in particular got some love. Let's be real, emotional intelligence is very swoonworthy.
As the first black Bachelorette, Rachel has already broken boundaries simply by starring in this show — and now, she's used her platform on a show that's seen by at least 5 million viewers (at least, according to Variety) to demonstrate that even the most successful, beautiful, put-together people can benefit from better mental health support. That's a beautiful thing, and hopefully The Bachelorette will continue to support this kind of open and honest communication in future episodes.