Even Peter Is Surprised The 'Bachelor' Women Still Trust Him After That Alayah Drama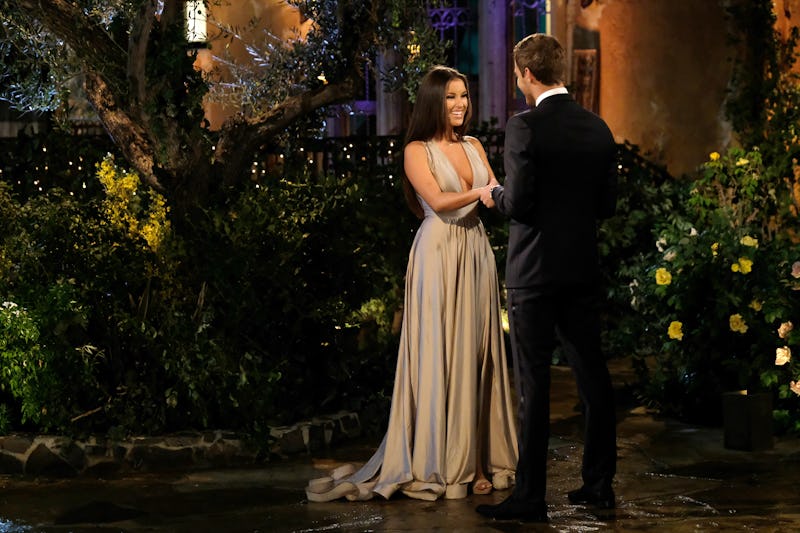 John Fleenor/Walt Disney Television/Getty Images
After an unprecedented return during last week's episode of The Bachelor, Alayah got sent home by Peter yet again on Monday night. And while the remaining women were somewhat relieved to put the drama behind them, they're still a little apprehensive about what Peter really wants — as is social media.
The episode kicked off with the women ready to riot over Peter's decision to bring Alayah back onto the show, and after taking some time to mull it over, he ultimately decided that the drama had become "too much" and asked her to leave. After Alayah and Peter's (second) tearful goodbye, he returned to the cocktail party, ready to beg all of the remaining women for forgiveness.
"I was trying to follow my heart," Peter explained, before apologizing for the constant back and forth. He then told the cameras he "wouldn't be surprised if they don't trust me," while the ladies explained that they weren't sure what he wanted anymore.
Peter then did his best to make things right during several one-on-one conversations, and it seemed like everyone was just happy to get on the same page. "This was all on me, and I take complete ownership of that," Peter told Bachelor host Chris Harrison ahead of the rose ceremony. "I'm OK making mistakes. I'm not perfect. [But] I had a great week and I'm still hopeful that my wife is out there."
Bachelor Nation, however, wasn't as certain about Peter as he seemed to be about moving forward.
Peter didn't just have to win back the remaining women in the house — he also has some work to do in order to convince Bachelor Nation that he was a good choice to be the current Bachelor. After all, it's hard to root for someone's love story when they're unsure about what they're even looking for.
It's not surprising that everyone is having trouble trusting Peter considering how much he's mishandled things so far. When he invited his ex Hannah Brown to host a group date (after she'd already showed up on night one), it resurfaced old feelings and he ended up canceling the day portion of the date entirely.
"I can't help how my heart feels," Peter told the cameras at the time. "I feel like such a jerk because I have such an awesome group expecting someone who was truly ready to have this work for them as well. Unfortunately, to Bachelor Nation, it seemed like Peter was in a similar position after sending Alayah home a second time, and having to — once again — apologize to the women for being wishy-washy.
Considering Peter says his ending "can't be spoiled," is it possible he never figures out what he wants?