Photos of Amal & George Clooney's Twins Aren't Here Yet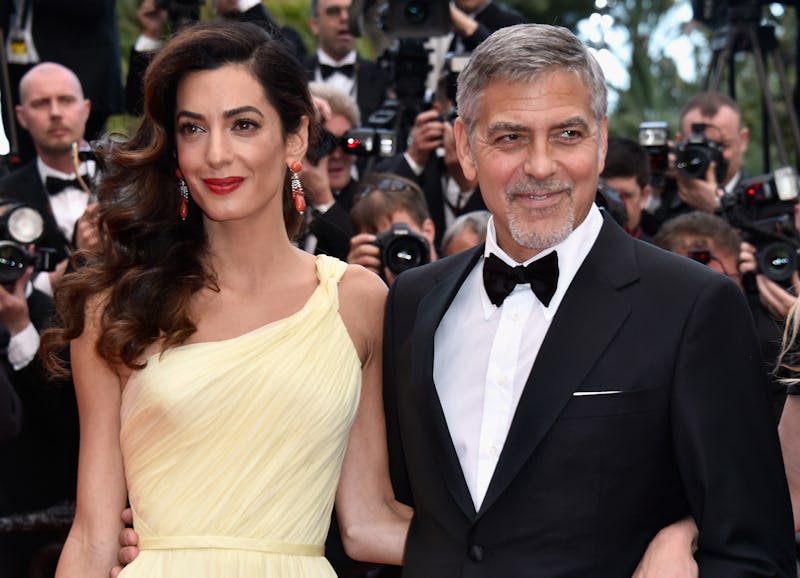 Pascal Le Segretain/Getty Images Entertainment/Getty Images
Well, it's definitely the year of the celebrity twins, it seems. Before Beyoncé and Jay Z welcomed their new bundles of joy, George and Amal Clooney have welcomed their twins. After reports surfaced that Amal was pregnant back in early February, the private couple have been busy working on their respective projects, and Amal has not let her pregnancy slow her down one bit. Now that they have arrived, when will we see photos of Amal and George's twins? While the couple is shy on social media, they have given some sneak peeks into their lives via publications, so some professional photos of the Clooney twins might not be too far off.
Based on their history, Amal and George seem more inclined to share official photos of their twins on their own terms. When the couple wed in 2014 in Venice, Italy, they exclusively shared photos of their beautiful wedding with People and Hello! Magazine. Sharing these private moments was obviously all done with their permission and their timing, so I foresee that they might take the same approach with sharing photos of their twins.
The Clooneys are not keen on social media, at least publicly, even though that is a major way that many celebrities share their personal news about babies and romance. They will obviously not give us every update on their life as new parents via an Instagram story, but they have still shared some moments about their lives together with the public. Immediately after news of Amal's pregnancy spread, George opened up on the French program Rencontres de Cinema, and said,
"We are really happy and really excited. It's going to be an adventure. We've embraced it with arms wide open."
I think it's rather adorable that he just couldn't keep his excitement contained. During an appearance at ComicCon in Las Vegas this past March, George once again had only lovely words to say about his wife and their new family. He told Extra,
"She is doing really great. She is amazing. I don't have anything to do. There is nothing I can do to help, but make tea and stuff."
It surely sounds like these two are extremely excited about becoming first-time parents, and I have no doubt they'll want to show off their new babies soon enough.