The Clooney Babies Could Be Arriving Soon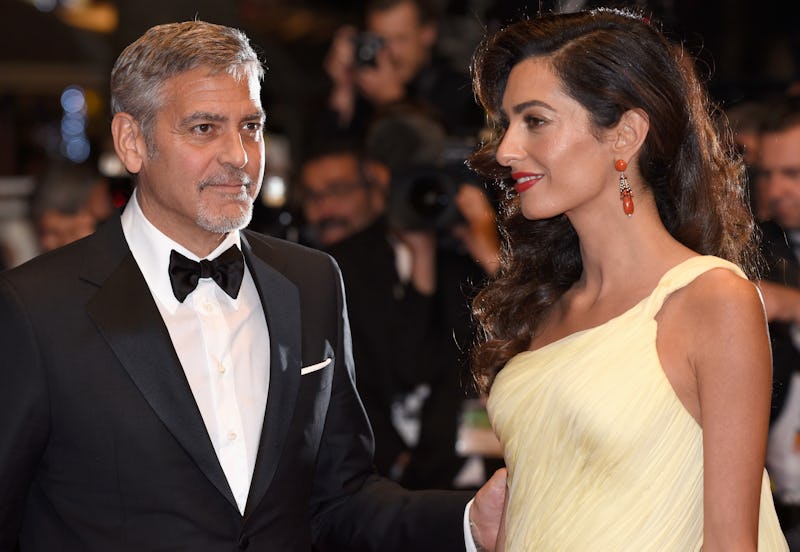 Clemens Bilan/Getty Images Entertainment/Getty Images
It might be time to start congratulating the Clooneys. As US Weekly is reporting, George and Amal Clooney are allegedly expecting twins. You mean, both Beyoncé and Jay Z and George and Amal Clooney are gifting us not one, but two children this year? 2017, you're looking up. If this news is true, when is Amal Clooney due? According to Us Weekly, this could be a set of summer babies. In fact, the Clooneys could be taking their twins back to the Clooney manner as early as June. Bustle reached out to George's reps for comment, but has not heard back at this time. Amal's reps could not be reached.
The actor and human rights lawyer usually keep quiet about their private life. When they first got engaged, outsiders were suspicious of the marriage, noting that it might not last because, well, it's George Clooney, and well, this is Hollywood. Clooney has been in the spotlight for so long that naturally some of his girlfriends have also come in and out of that spotlight, (and naturally, people have reduced him down to your typical, Hollywood playboy because he's dated numerous woman). In this case, keeping their relationship privatized has only seemed to make Amal and George stronger.
Since the pair tied the knot on Sept. 27, 2014, the skeptical murmurs have been quieted. Now, with two babies potentially on the way, it's clear this power couple could pretty much take over the world. Alongside their two impending, brilliant babies, of course.
The two seem consistently supportive of one another's endeavors, and that's going to make them excellent parents. Amal can often be found by George's side on red carpets. Inversely, George appears to be Amal's number-one fan. When George received the Cecil B. Demille Award at the 2015 Golden Globes, he told the crowd,
"It's a humbling thing when you find someone to love. Even better if you've been waiting your whole life, and when your whole life is 53 years... Amal, whatever alchemy it is that brought us together, I couldn't be more proud to be your husband."
They both are proud to be each other's partner, and I'm sure, their future babies will be proud to have them as parents. Who wouldn't be?