Britney Spears Dyed Her Hair Brown Because Blonde Britney Is So '99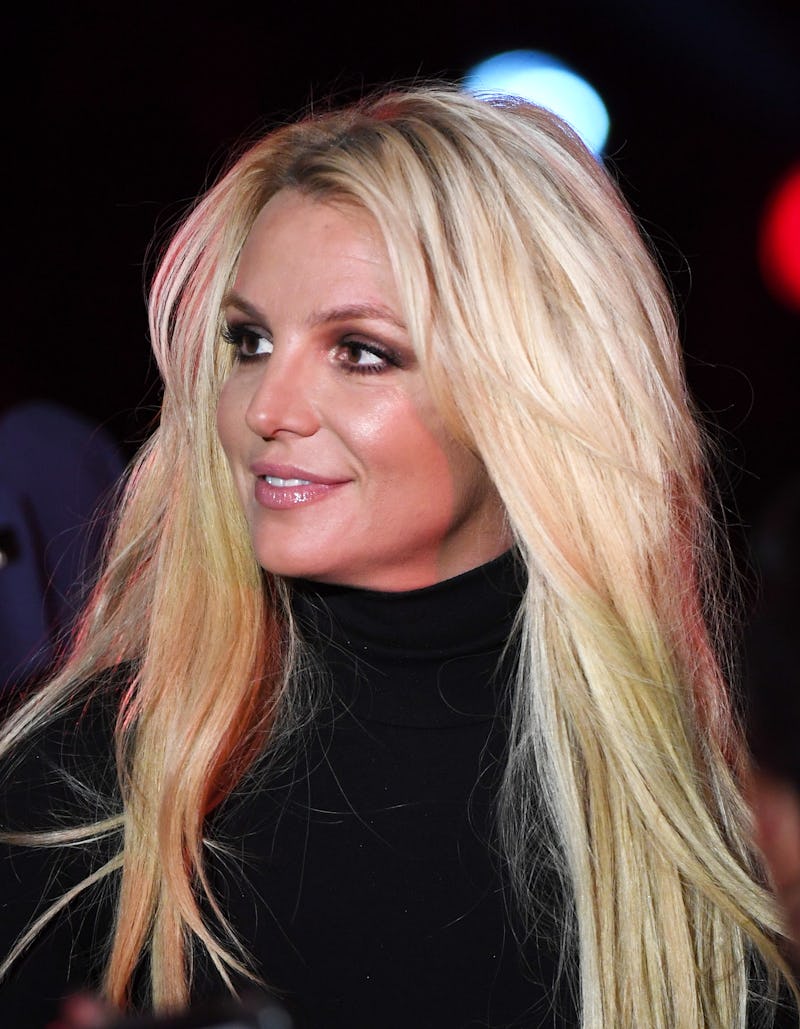 Ethan Miller/Getty Images Entertainment/Getty Images
In the world of celebrity hair, some stars are known for their signature looks. From Emma Stone and Amy Adams' red locks to Christina Aguilera's platinum blonde hair, some celebrities rarely switch up their styles. Now, though, iconic blonde Britney Spears' dyed her hair brown, and the drastic change certainly seems like the real deal.
On Sept. 4, Spears took to her Instagram account to post a video montage of her new brown hair. The switch from blonde to bronde (a trend that hit hard a few years ago) was inspired by her little sister Jamie Lynn Spears, according to the post. Jamie Lynn went brunette for a Netflix role over the summer. Celebrity friends like Snooki, Tess Holiday, and boyfriend Sam Asghari all commented love on Spears' new brown hair.
In the photos, fans can tell that the "Gimme More" singer has retained quite a bit of her usual long length despite switching up the color of her locks. Subtle pieces of caramel add dimension to the look and give her a bronde hue.
While some stars choose to switch up their looks with the help of wigs (here's looking at you Kar-Jenner clan), Spears' hair looks as real as it gets. Given that the process of darkening the hair can take time just like going platinum, the lighter hue of Spears' brunette could be a clue that this is what her usual blonde looks like during the process of getting progressively darker.
While there are quite a few warnings about the dangers of moving from brunette to blonde too quickly, there are actually similar issues that face those who go from blonde to brunette.
According to Refinery29, the process of going dark again is complicated for those who have been using bleach on their locks. Those who want to get a warmer tone have to undergo a process called "filling" where color is redeposited and layered back into the strands so that it doesn't ultimately fade, become muddy, or soak into the hair making it much darker than anticipated.
It's not just the process of going brunette that takes a bit of work. Dermstore reports that after care for brunette color-treated hair is important to maintain the look. Those who have gone from blonde to brunette should avoid sun which can oxidize the stands and continually make sure that their hair is moisturized and doesn't dry out after coloring.
While Spears has been blonde for some time now, she may be more familiar with the process of going darker than you think. It's been a minute, but the singer has been brunette before. Back in 2013, Spears went for a chocolate brown at Elton John's Oscars party that's even darker than her new bronde hue.
Back in 2007 when her album Blackout released, the singer had nearly black hair (get it, Blackout) on the cover and in the video for her single "Gimme More."
Sure, Britney Spears' brown hair has made appearances before. However, given that those moments are few and far between, seeing the singer rocking them again is kind of major. Plus, she looks incredible.