Sweet Pics Of Ed Sheeran & GF Cherry Seaborn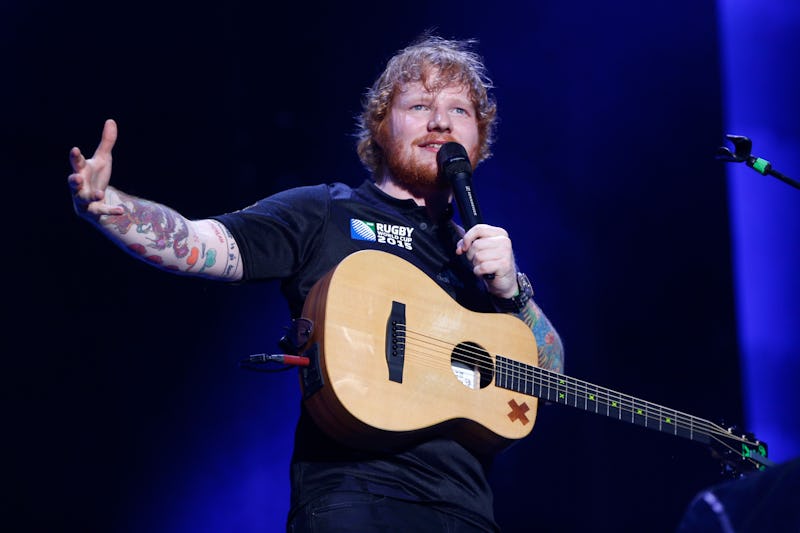 Phil Walter/Getty Images Entertainment/Getty Images
Valentine's Day may be a month away, but love is definitely in the air, especially for some celebrities. For singer Ed Sheeran and his girlfriend Cherry Seaborn, it seems like the heartfelt holiday can't come soon enough. Despite taking a break from social media and touring, Sheeran has kept busy making music inspired by his high school lady love. The "Thinking Out Loud" singer wrote a song entitled "Perfect" in honor of his girlfriend of two years that is set to come out in November 2017, he shared on the radio show Heart Breakfast, according to The Birmingham Mail.
The British star and his girlfriend keep quite a low profile, but that doesn't mean he and Seaborn haven't been still having a good time. From hitting up baseball games to photobombing their friends, Sheeran and Seaborn are quite the active pair. In fact, Sheeran revealed on Total Access on Signal 1 Radio that his field hockey-playing gal pal helped him kick his pizza and beer-laden diet that he unknowingly acquired while off tour. Seaborn shared a high-intensity workout with Sheran that helped him lose about 50 pounds.
Let's see what these two are up to besides writing — and inspiring — songs:
Partying With Friends
Calvin Harris posted a fun-filled photo on Instagram back in September 2015 with his crew, including Sheeran and Seaborn, living it up at Wet Republic in the MGM Grand Hotel in Las Vegas.
Going To Games
Not only does the lovely couple enjoy staying active but also watching others do the same. The two were caught rooting for the New York Mets back in September 2015.
Vacationing Around The World
The musical duo were seen holding hands and looking lovingly at each other on their trip down under back in May 2016.
Photobombing In The Most Romantic Way
Who could forget Sheeran and Seaborn's beyond epic photobomb on July 5, 2016 while celebrating their friends' engagement and their one-year anniversary. Too cute.
Moving Closer Together
The Sun reported that Seaborn moved from New York to London to be closer to Sheeran while he preps for his big musical comeback.
Fans won't have to wait much longer for new Sheeran tunes. His next album Divide will be out on March 3, according to his Instagram. With new music in tow and his lady on his arm, 2017 may be Sheeran's best year to date!