What Gianni Versace Looked Like In Real Life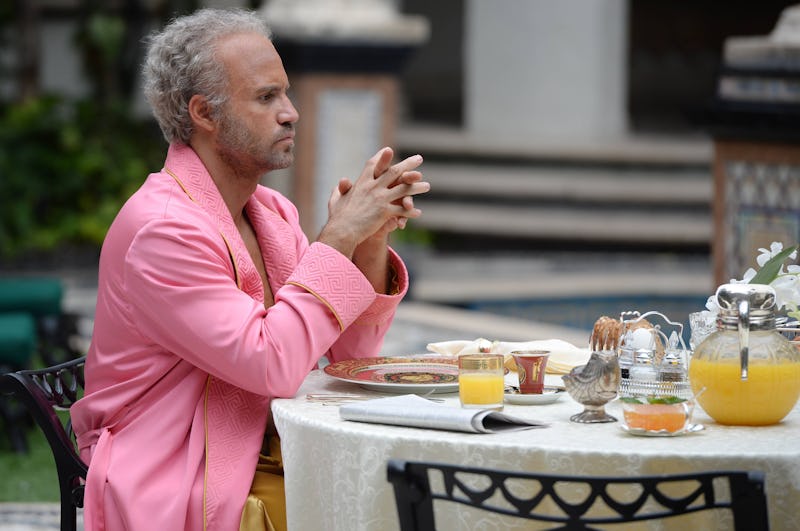 Jeff Daly/FX
When people today think of Versace, often they think of bright colors, bold patterns, and amazing red carpet looks. But there's tragedy behind the glitz and glam. The fictionalization of the Versace's murder in the FX series The Assassination of Gianni Versace: American Crime Story (executive producer: Nina Jacobson) brought the 1997 event back into the forefront of American consciousness. Audiences are now tuning in to see Édgar Ramírez's performance as the famous designer, and these photos of the real Gianni Versace show just how appropriate that casting is.
Versace was shot and killed by Andrew Cunanan on the steps of the designer's Miami Beach mansion on July 15, 1997, when he was only 50 years old. In his relatively brief life, Versace rose from being an Italian designer to an international superstar. Per The New York Times, Versace was born in the town of Reggio Calabria in Italy, and his life was infused with fashion from a very young age. Versace's mother was a dressmaker, and the future fashion mogul went to work with his mother after graduating high school. Eventually, Versace was able to grow from having a small business in Milan to becoming an international superstar in the world of fashion.
His work stood out for its bright colors, flashy patterns, and it's often tight and sexy silhouettes, like his bondage-inspired dresses. His customers were some of the most famous people in the world, from Madonna to Princess Diana. Though his legacy lives on, his death left a hole in the heart of the fashion industry.
These photos of the real Gianni Versace harken back to the era when he was on top of his field:
Met Gala Look
This shot from the 1996 Met Gala shows Versace with his sister, Donatella, who is rocking one of his famous bondage-style dresses. In the FX series, the fictional Versace says to Cunanan (Darren Criss) "The first dress I ever made was for my sister Donatella. Maybe every dress I make is for her." Whether or not this statement is accurate, the pair here look certainly look coordinated and in sync.
In The Nude
Versace had friends in high places, and this photo was taken by prolific fashion photographer Helmut Newton. Newton often shot for Vogue, but this 1994 photo of Versace at Lake Como almost seems like a look into an incredibly private moment.
With His Model Muses
Pictured here at the Save The Rain Forest Gala dinner in London, 1992, with models Naomi Campbell and Carla Bruni, Versace seems right at home. The designer embraced these models and placed them on the runway, even though models of their body type were often relegated only to print campaigns, per Vogue. Campbell, Bruni, and other superstars such as Cindy Crawford, became part of the Versace family.
Recently, in honor of the 20-year anniversary of Versace's death, 90s supermodels Naomi Campbell, Cindy Crawford, Claudia Schiffer, Carla Bruni, and Helena Christensen came out of retirement to walk the runway during the finale of the Spring 2018 Versace collection. It was a moment meant to honor Versace, and it is sure to give goosebumps to anyone watching.
In The LGBTQ+ Community
Pictured here with musician Elton John at the 1992 London Versace store opening, Versace is clearly having a good time. Despite living in a period less tolerant of queerness than today, Versace was openly gay, living with his partner of 15 years, Antonio D'Amico. Ricky Martin, who plays D'Amico in the FX series, shared with Us Weekly that he was inspired by Versace's decision to come out. "I'm a gay man that lived in the closet for many years. To see the process of Gianni actually coming out and sitting down in front of a journalist to talk about his reality is something that moved me in many ways," he said.
Back To His Roots
Versace began working as a dressmaker with his mother, and this 1991 portrait features him hugging a dress-form, embracing the tools that gave him his start.
On The Runway
His shows were known for being fun and bold, and Versace's pose here at the end of a runway show highlights that feeling.
Hard At Work
This shot shows brother and sister, Gianni and Donatella, hard at work building their fashion empire, which Donatella still runs today.
With His Partner
Versace and D'Amico were together for 15 years, and D'Amico was one of the first people to encounter his longtime partner after he was shot in front of his Miami Beach home, per The Guardian.
Surrounded By His Art
Above all else, Versace will be remembered for being an incredible artist, and leaving a mark on the fashion world that continues today. Stars like Saoirse Ronan, Lady Gaga, SZA, Oprah, Katy Perry, and Serena Williams have all rocked Versace looks in the past few months alone.
Though Gianni Versace might be gone, his legacy as an artistic genius lives on.