Hilary Duff's New Baby Photos Are Probably The Cutest Thing You'll See All Day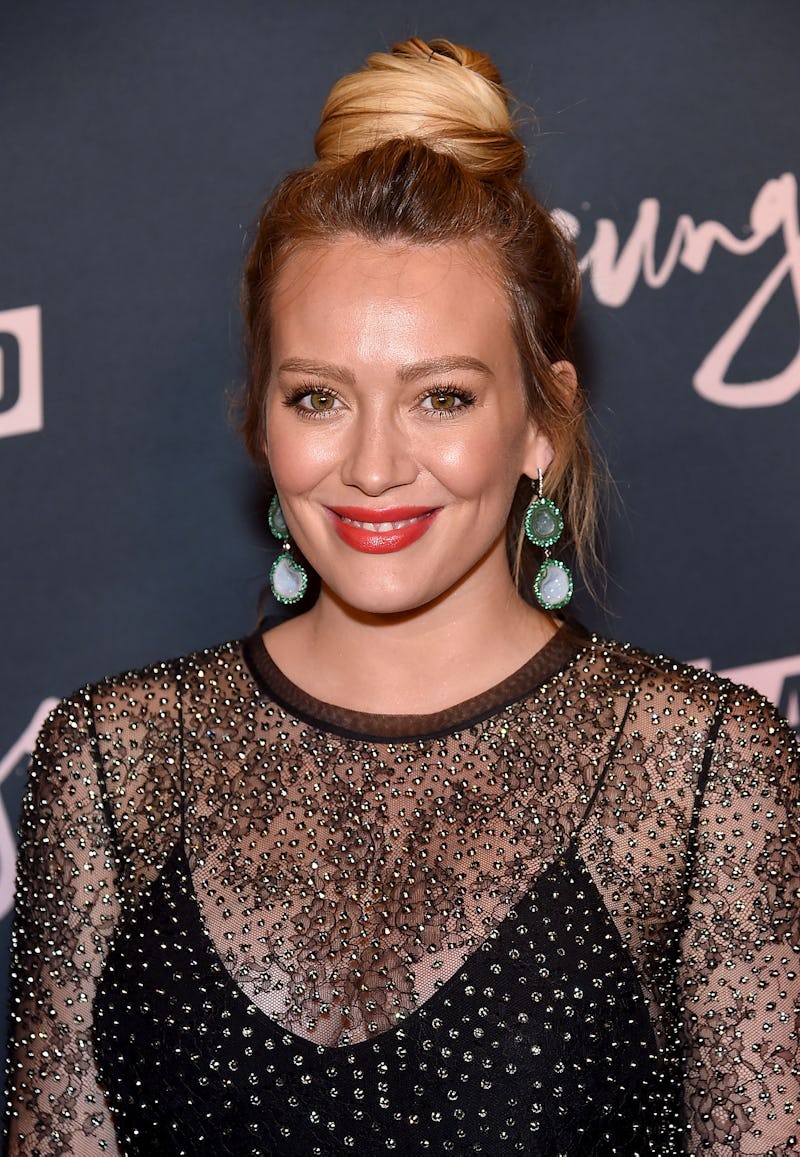 Jamie McCarthy/Getty Images Entertainment/Getty Images
Being a mother of one is "So Yesterday" for Hilary Duff. Well, actually, it's so five days ago, because Hilary Duff has been a mother of two since Oct. 25. Now, she's sharing all the details with her fans. On Instagram, Hilary Duff has shared photos of her daughter Banks Violet Bair. The baby had a few days of privacy before her social media debut, since Duff and her boyfriend Matt Koma didn't announce her arrival until Monday, Oct. 29.
Both parents shared the same photo to mark the momentous occasion for the family. In the picture, they're standing near a window while Duff holds the baby with Koma's arms wrapped around them both. Along with her post, the Lizzie McGuire alum announced,
"Banks Violet Bair, this little bit has fully stolen our hearts! She joined our world at home on Thursday afternoon and is absolute magic."
Koma shared a very sweet message himself,
"Banks Violet Bair /// 10.25.18 /// We welcome a beautiful daughter, little sister, and best friend for life. Could not possibly be more grateful for our growing family and for the [orange emoji] who makes it all possible. Cloud ten."
Clearly they're both elated by the arrival of their baby girl. The captions are precious, and the photo is beautiful. The photo is so nice that it would've been enough to satisfy the Hilary Duff fandom's "need" for content, but the parents actually shared even more cute moments on their Instagram Stories.
The infant was ready for her close-up in a photo her mom shared of her swaddled in a grey-and-white print blanket. Most mothers love taking (and sharing) photos of their children, but considering how big Duff's social media following is, this close-up is probably the first of many for little Banks.
The newborn switched up the grey-and-white blanket for a pink one with a purple pacifier in another photo Duff shared on her Instagram Story.
Of course, most of the parents' followers want to see the baby's face, but Koma sharing a close-up of her little foot is still a very cute post.
The new dad shared more than just that. He also posted a very pretty black-and-white photo of the baby managing to look pensive in the middle of her nap.
The only way the photo could've been more perfect is if Duff's son Luca was in it, but there will be plenty of time for more photos throughout the years. Maybe he just wasn't ready yet, especially since his name suggestion didn't make the cut.
According to Us Weekly, Duff mentioned on The Late Show With James Corden in June, "We're up for any kind of suggestions, but Luca thinks Cafont Croissant is, like, the coolest name." It's definitely unique, but Banks Violet Bair has a great ring to it.
Two months after that talk show appearance, the Younger star told People,
"We've known her name for a really long time. Her name starts with a B, and I keep calling her baby B, which is awesome because people are like, 'Oh, no, it's just because of his last name.'"
For anyone who's confused by that, Koma's given last name is Bair.
The photos of Duff and Koma's daughter are nothing short of adorable, just like her name. Hopefully the parents continue to share more photos of her throughout the years, so the fans can keep up with the cuteness.