These Photos Of Hurricane Irma's Devastation In The Caribbean Are Horrifying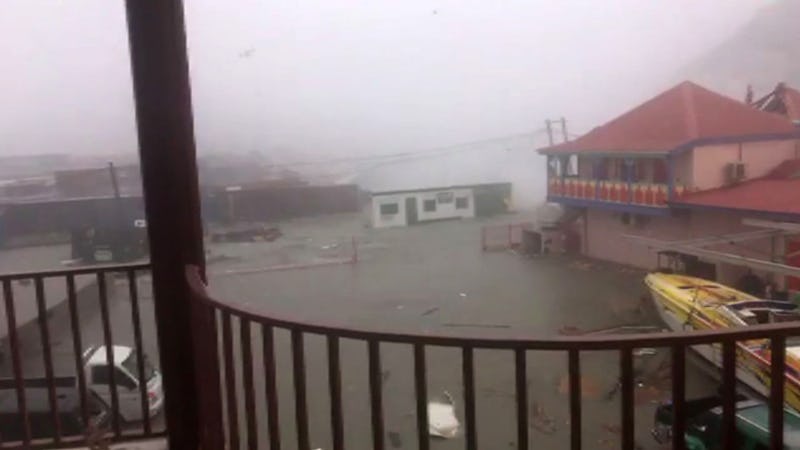 STEFANY SANTACRUZ/AFP/Getty Images
Hurricane Irma has inflicted significant damage on several northeast Caribbean islands, leaving at least 10 people dead. Indeed, photos of Hurricane Irma reveal the devastation the storm has wreaked on Barbuda, St. Martin, the British Virgin Islands, and other parts of the Caribbean.
Irma first made landfall on Barbuda on Wednesday morning. According to the prime minister of Antigua and Barbuda, nearly all of the buildings on the island of Barbuda have been damaged. In St. Martin, Reuters reported that the storm killed eight people; Daniel Gibbs, the chairman of a local council on the island told Radio Caribbean International that "95 percent of the island is destroyed."
As the hurricane progressed, it was expected to pummel Puerto Rico, but CNN reported that Irma did not directly hit the U.S. territory, though it was battered by severe winds and rain. Local officials reported that hundreds of thousands of people in Puerto Rico are experiencing power outages due to the storm.
Irma is one of the strongest storms ever registered in the Atlantic Ocean, and as of Thursday morning, it was moving northward from the Dominican Republic. Current projections suggest that Irma may make landfall on Florida this weekend; a state of emergency has therefore been imposed on every county in Florida.
The photos that emerged from these Caribbean islands in the wake of the hurricane show destroyed buildings, intense flooding, high-speed winds, and widespread devastation.
The destruction caused by Hurricane Irma is extensive. One major concern is water shortages: There have been multiple reports of the storm cutting off both water and electricity in St. Martin, and roughly 4,000 people in Puerto Rico reportedly lost their water service due to power outages.
In fact, as of Wednesday afternoon, a Puerto Rico electricity company told The New York Times that 300,000 people no longer had electricity, though CNN reported that the number was actually much higher, at 900,000.
Irma produced winds of up to 185 mph in the Caribbean, exacerbating the damage it caused. The region also experienced heavy floods.
Prime Minister Gaston Browne of Antigua and Barbuda described Barbuda as "barely habitable" in Irma's wake. "I felt like crying," Browne said after Irma struck his country, "but crying will not help."
Browne told the Associated Press that up to 60 percent of Barbuda's 1,400 residents have been rendered homeless by the storm. However, another hurricane, Jose, has already formed in the Atlantic, prompting Browne to pledge an evacuation of Barbuda's residents to Antigua before it arrives.
As Irma continues on its projected path, states in the southeast continental U.S. — already on high alert in anticipation for damage like the ones seen in images from these Caribbean islands — are frantically preparing for this Category 5 hurricane.