These Photos Of The Damage From Hurricane Michael Are Truly Unnerving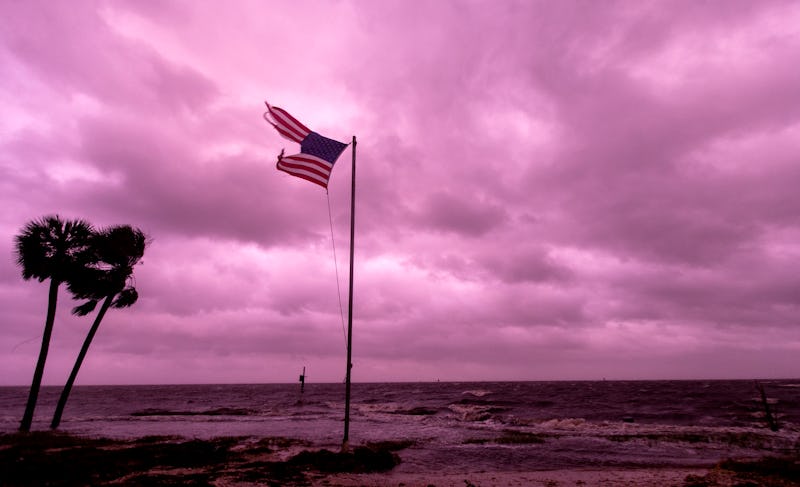 Mark Wallheiser/Getty Images News/Getty Images
The latest hurricane to hit the United States made landfall at Florida's panhandle on Wednesday and is now working its way up the East Coast. As of Thursday morning, two deaths have been reported, homes are destroyed, and hundreds of thousands are without electricity. As the storm began retreating from some areas, photos of Hurricane Michael circulated that demonstrated its immense power.
At 10 a.m. ET, around 840,000 people were reported to be without power in the south, according to PowerOutage.us, with the majority of the outages occurring in Florida, Georgia, and South Carolina, and the rest in Alabama and North Carolina. Two people are known to have died, according to the Tallahassee Democrat, including an 11-year-old girl. Both died when trees fell on their homes, according to the paper. Emergency workers had difficulty reaching them to provide assistance.
Damage was reported to be especially bad where the hurricane first made landfall at Mexico Beach. According to local outlet WKRG, the storm battered the area with winds of 155 miles per hour that blew off roofs and snapped trees. "You can't drive a car anywhere, you can't do anything because it's littered with houses, pieces of houses," resident Patricia Mulligan told the New York Times.
"Hurricane Michael is the worst storm that the Florida Panhandle has ever seen," Gov. Rick Scott said on Wednesday evening. He added that the government will be "turning 100 percent of our focus to search and rescue, and recovery." Here are some photos that show what the hurricane left in its wake.