Jamie Lynn Spears Is Competing On The 'Double Dare' Reboot & The Photos Are So Nostalgic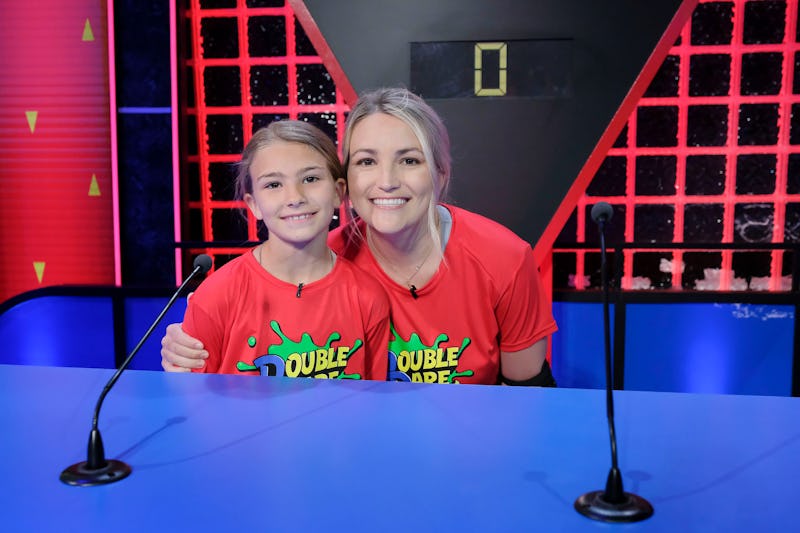 Lisa Rose/Nickelodeon
Just when you think the Double Dare reboot couldn't get any better, the series has now gone and thrown in a former Nickelodeon star to make things even more exciting. People reports that Jamie Lynn Spears will compete on Double Dare with her daughter — and if the official photos from their episode are any indication, it's guaranteed to make your '90s heart soar in the very best way.
Known for being one of the most popular and beloved game shows of the late '80s and '90s, the Double Dare reboot promises to "feature appearances from blasts from the past, longtime Double Dare fans, and stars from today," according to the press release. This will allow the show to become a bit more modernized without losing that classic nostalgia factor we all love. Spears' presence is direct evidence to that fact.
The singer will pop up for one episode and compete alongside her 10-year-old daughter, Maddie, and she could not be more thrilled for them to share this fun experience together. "I loved this iconic show growing up, and I knew it would be so special for Maddie and I to do together," Spears told People during a recent interview. "So I was thrilled to say yes when I was asked to play!"
Viewers will have to wait and see if Spears and Maddie come out of the episode victorious or not, but the photos of the two of them certainly make it seem like they have what it takes to go the distance. These two are clearly in it to win it and those high fives could be a solid indicator that their hard work ends up paying off. But again, you'll have to tune in for the reboot to know for sure how it all plays out.
One of the many great things about Double Dare is that it challenges its contestants in a variety of different areas, so even if obstacle courses weren't your strong suit, you could make up for it in other ways, such as the trivia round. The reboot promises to bring all of that back and more. However, Spears' competitors may have their work cut out for them since she and Maddie look like absolute pros regardless of what activity they're undertaking.
When it comes to the physical activities various contestants have had to endure, Double Dare prides itself on making an absolute mess of things. The show's motto should be something like "the grosser, the better," which you can see Spears and her daughter already getting a little taste of throughout the images. Not that they seem to mind the abundance of whipped cream and water balloons. In fact, it may only help to spur them on to victory.
Another notable aspect about the revival is that it'll be sticking around for quite some time. This won't be just a one and done thing or consist only of a handful of episodes. Nickelodeon has given the series a whopping 40 episode order, meaning there's plenty of games and slime coming your way, though, seeing Spears will be a great way to kick things off.
The reboot will be hosted by Liza Koshy this time around, however, the original host Marc Summers will also serve as a commentator, as well. "Double Dare was the show for a particular generation," Summers said in a statement, via E! Online, when news of the revival came out. "For the kids of the '80s and '90s, they laughed and learned, and got messy in the process. Thirty years later, I believe it's still the gold standard."
Fans will have to see if that proves to be true when the Double Dare reboot kicks off on Monday, June 25 at 8 p.m. ET, but when you have a beloved '90s star involved in a beloved '90s game show, how could it not?