Photos Of Kate Middleton Outside The Hospital Offer The First Glimpse Of Baby #3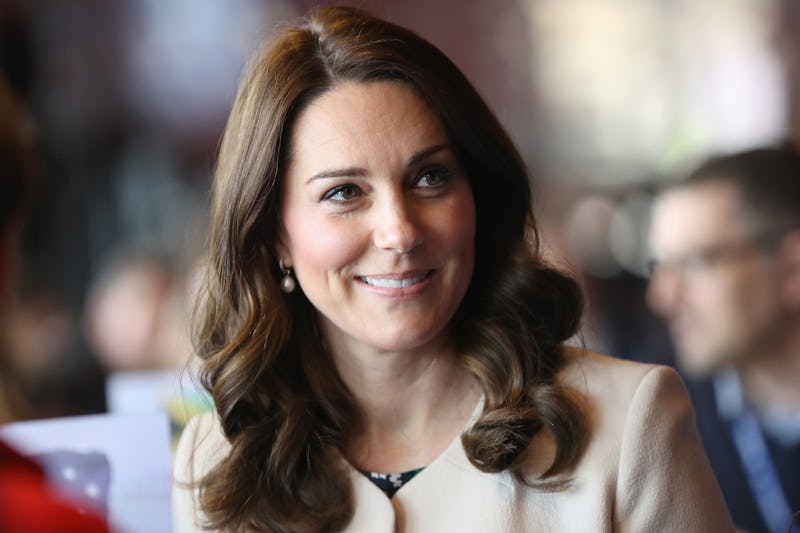 Chris Jackson/Getty Images Entertainment/Getty Images
After months of waiting for Kate Middleton's third baby to arrive, the moment has finally come. So, what are fans clamoring for next? Photos of Kate Middleton outside the hospital with her baby, of course. On Monday, April 23, Middleton and Prince William welcomed their newest addition, a son, weighing 8 pounds and 7 ounces. And now, the earliest photos of the new baby and his mom leaving the hospital are here.
The post-birth photos and videos outside of the hospital are a royal family tradition, and for Middleton, go back to Prince George's birth in 2013. It was practically a given that the she and the new baby would continue the tradition, and now, they have. It's usually the first glimpse the public gets of the newest addition to the royal family, and it always makes for some seriously adorable photos.
As with everything related to this family, Middleton's third child has been highly anticipated by people from all over the world — even those of us who don't live in the UK. Seeing these photos is really exciting, especially because they signal such a huge change for this new family of five. As busy as this year has been for the royal family, it's hard for life to change more than by adding another person to it forever.
Sky News shared a live stream from the hospital, including the moment when Middleton and William left the building. The anticipation built up, and then suddenly, Middleton, William, and the new as-yet-unnamed baby appeared. The couple looked happy and (unbelievably) refreshed as they waved to the crowd. And then, soon after that, they were in their car and headed back home.
Before this, Prince George and Princess Charlotte were shown visiting the hospital with their father to meeting their new sibling. And while George looked a little tired (maybe he had a long day at school?), Charlotte took the opportunity to wave to the crowd.
It's also pretty cool the way these photos are similar to the ones that Middleton and William have taken with his older siblings before taking them home from the hospital, too. When George was born in July 2013, they posed with him outside in the same way.
And when Charlotte was born in May 2015, the routine was very much the same for Middleton and William:
Of course, that time, when Charlotte was born, we also got the bonus photos of George and his dad visiting his little sister in the hospital, which was a nice touch. Seriously, there's never a time these kids are doing anything that isn't totally adorable, so it wouldn't be surprising if the same goes for their new addition.
After Middleton has been laying low for the last month, waiting for her baby's arrival, it's good to see her out and about again, especially for such an exciting reason. As wonderful (and cute) as finally seeing her new baby is, it's also great to see that this mom is doing well, too.
Let's just hope these photos are just the beginning of plenty of pictures we'll get to see of Middleton and her new baby during the first year. And maybe Kensington Palace can throw us a few including Charlotte and George? That's probably not too much to ask.