Kate Middleton & Prince William Have Welcomed Royal Baby #3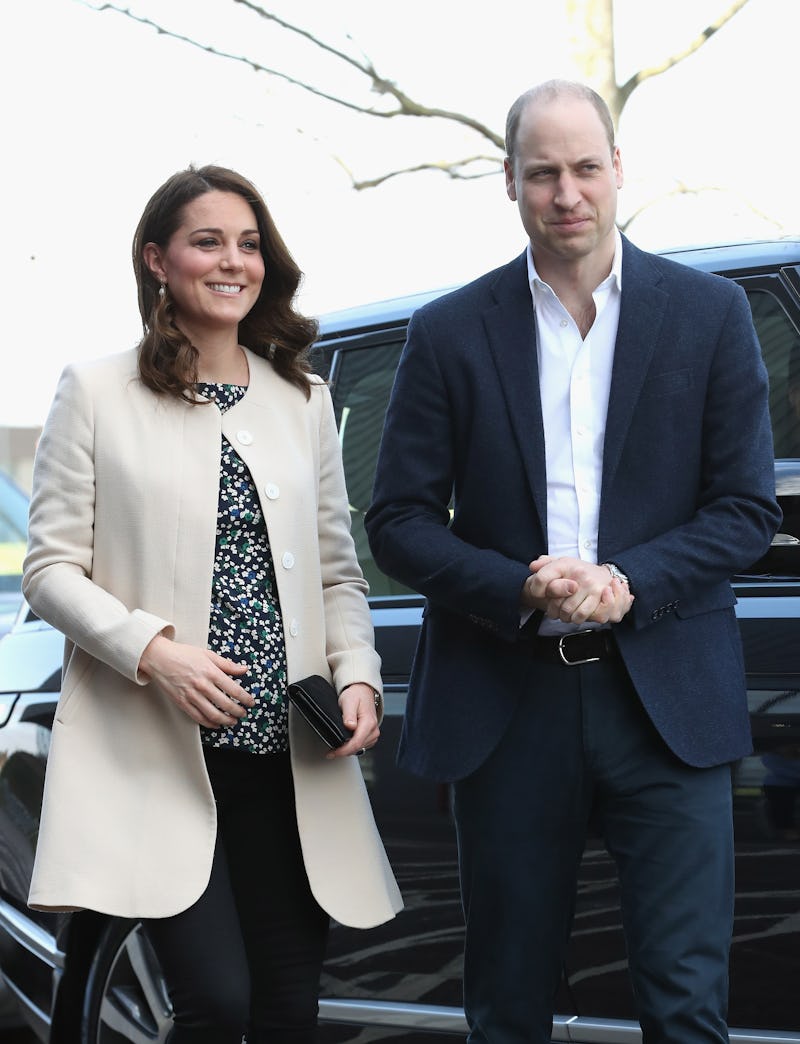 Chris Jackson/Getty Images Entertainment/Getty Images
It's an awesome year to be a fan of the royal family. Not only is there a wedding in the pipeline, but now, we have our newest royal baby. On Monday, April 23, Kate Middleton welcomed her third baby, officially making Charlotte and George both older siblings.
Kensington Palace announced the news on their official Twitter account (where they share all of the important happenings in this family), and shared that the couple welcomed a baby boy weighing 8 pounds, 7 ounces, at 11 a.m. The palace had shared several hours earlier that Middleton was in the "early stages of labor" and admitted to the hospital. In addition, after the baby was born, the palace tweeted, "The Queen, The Duke of Edinburgh, The Prince of Wales, The Duchess of Cornwall, Prince Harry and members of both families have been informed and are delighted with the news."
Since Middleton and Prince William announced they were expecting another baby last year, fans have had so many questions about their newest little one. Would it be a boy or a girl? What would they name him or her? Now, we finally have some of the answers we've been looking for — the name still hasn't been announced — and this exciting moment comes at exactly the right time to hold us all over until Meghan Markle and Prince Harry tie the knot in May. There is so much excitement in 2018 for this family.
Although William and Middleton typically share updates on their children every so often, they usually choose to remain pretty private when it comes to the daily lives of their kids. We can probably expect the same this time around, so don't be too bummed if they don't offer up too many photos or details in the first months of the new baby's life. If George and Charlotte are any indication, the older he gets, the more information we'll be treated to.
Back in September, Kensington Palace announced that Middleton was expecting again in a press release, adding that the family (including the Queen) was "delighted with the news." Middleton also suffered from hyperemesis gravidarum as she did with her first two pregnancies, which is severe nausea and vomiting that persists far longer than most expecting moms typically suffer from morning sickness. This led to her having to skip out on a royal event or two in the beginning of her pregnancy (like that initial press release explained), but it wasn't long before she was back to making appearances alongside Prince William, Harry, and occasionally Markle.
Then, in March, Middleton attended her final royal appearance before giving birth. She and William visited different events that led up to the 2018 Commonwealth Games in Australia. After that, it was just a waiting game for fans who were looking forward to the family welcoming their third child, and now, that time has finally come.
This spring is so busy for the royal family, so hopefully, Middleton is able to recover from giving birth before Markle and Harry tie the knot next month. Reportedly, Charlotte and George will be part of their wedding, but it's not known whether or not Middleton and William will be bringing their youngest child to the event. Whether the new baby stays home or comes with, it's going to be a big day for everyone involved.
Congratulations to William and Middleton, who must be over the moon now that their baby has finally arrived. Being that so few details were released before the baby's birth, this announcement is all the more exciting. It's going to be fun to see Charlotte and George interacting with their new brother, and hopefully, photos and the baby's name will be released soon.