The Keds Collab That Sold Out In One Day Is Back Again & Seriously Adorable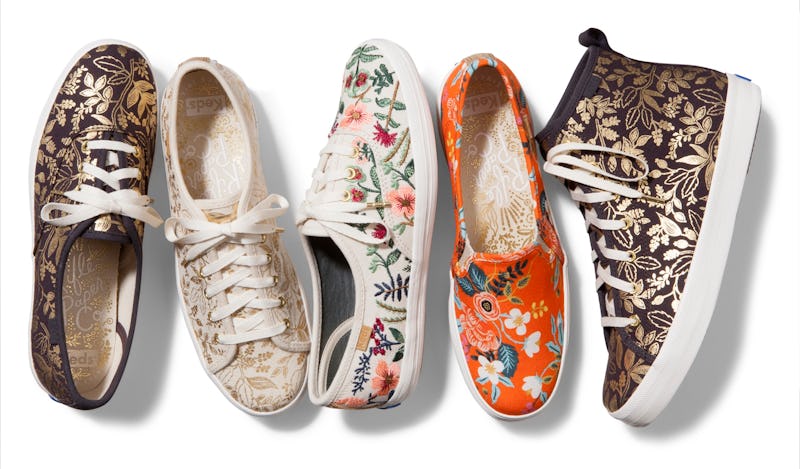 Courtesy of Keds x Rifle Paper Co
Honestly, is there anything better than a good, solid capsule collection? Keds x Rifle Paper Co is back with just that, with a fall collection set to hit shelves next month. They've got a new selection of covetable styles, and it pretty much goes without saying that their collaboration is something of a match made in heaven. Rifle Paper Co's signature artsy-chic florals work absolutely perfectly with the simple-yet-adorable Keds aesthetic — and the resulting collection is pretty much to die for. The new collection will be available starting on Aug. 14 on Keds.com, and RiflePaperCo.com, with prices ranging from $55 to $70.
The two brands first collaborated last spring, and their newest designs springboard off the previous looks for a fun fall 2017 collection. With new styles, silhouettes, and prints, the new looks are definitely worth checking out — there are slip ons and high tops, in addition to the brand's signature sneakers. And as for the prints, they range from subtle to zany — though all of them have a great sense of that whimsy you know and love. One of the styles is even decorated with embroidery, which adds an extra level of flair (and we all know that embroidery is very in for 2017).
Come on, can you imagine how cute those would look with your indigo slim kick flairs? They'd also punch up a sun dress for a great end of summer look.
These black and gold high-tops certainly aren't to be messed with, either. The intricate foliage pattern is quite eye-catching, while the gold adds an extra punch.
As for these sneakers, they've got a more laidback look, while also invoking some rococo appeal. Can't you just picture Kirsten Dunst as Marie Antoinette wearing these?
These new shoes and more will be featured in the Keds x Rifle Paper Co fall 2017 collection — and they're definitely worth taking a closer look at when they debut in August.