Photos Of Melania Visiting A Philly Hospital Reveal A Side You Don't Usually See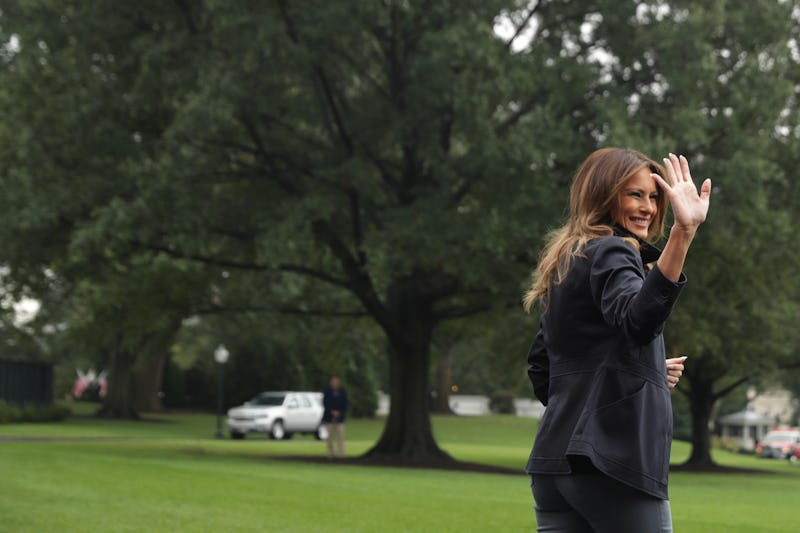 Chip Somodevilla/Getty Images News/Getty Images
Despite being a mother of 12-year-old Barron, FLOTUS isn't often known for being very maternal. But photos of Melania Trump visiting a Philadelphia hospital on Wednesday revealed a softer, more motherly side to the enigmatic first lady. Melania was visiting the hospital as a part of her "Be Best" campaign, which focuses in part on the opioid epidemic. During her time at Thomas Jefferson University Hospital, Melania was photographed holding babies, talking to mothers, and more.
Trump tweeted the photos herself, writing, "Thank you Thomas Jefferson University Hospital for a productive visit. The MATER program is a prime example of how we can provide help to mothers & babies w/ NAS. I'm looking forward to learning more about @hhsgov developments for a new tracking system. #BeBest"
According to ABC, Trump's day was spent touring Thomas Jefferson University Hospital, particularly its neonatal care unit, then spending time with mothers who are enrolled in an addiction treatment program that allows them to spend time with their newborn children. This visit was one of many trips that are planned as a part of the "Be Best" campaign, and focused primarily on the importance of healthy pregnancies.
Opioid abuse is one of three pillars of the "Be Best" campaign, along with "well-being" and "social media abuse." The first lady's particular focus on opioid abuse is both fitting and necessary: The opioid epidemic in America has been reaching unprecedented levels in the last few years. For example, a recent survey within the state of Washington revealed that half of the cases of child abuse and neglect in the state are connected to opioid addiction.
Trump spoke briefly at the hospital during a conference on infants born with opioid addictions. She said, "As the caretakers of the next generation, it is our responsibility to protect our most valuable and vulnerable, our children."
She added, "There are few things harder to bear than seeing a newborn suffer, and I'm anxious to do all that I can to help shine a light on this epidemic."
The first lady also said that she is "proud of the administration's continued efforts" in fighting opioid addiction, for both mothers and newborn children. Last month, President Trump signed a bill that will work to tackle the opioid epidemic via prevention, law enforcement and treatment.
Melania Trump did apologize early in her visit for being a little late — but it was for good reason, as there were mechanical problems reported on her plane that forced them to divert back to Washington D.C.
Her flight reportedly had smoke in the cabin. According to passengers who were on the flight with her, members of the crew handed out damp washcloths for people to cover their mouths with, due to the smoke. Trump had to switch plans before heading back to Philadelphia.
The president said he spoke with his wife after the incident, and that everyone was perfectly fine. To the Fox Business Network, he said, "They came back. She got in another plane. I said, 'I hope this plane's better than the first one.'"