Photos Of Melania Working With Oklahoma Students Show How Her "Be Best" Tour Is Going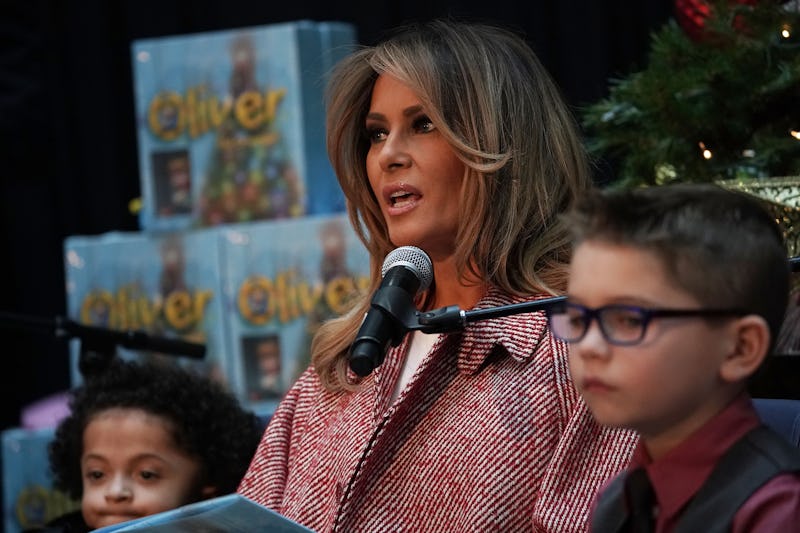 Alex Wong/Getty Images News/Getty Images
On Monday afternoon, some of the first photos of Melania Trump's "Be Best" tour were released, reflecting the kickoff event of her three-state endeavor. FLOTUS visited three different classes during her time at the Dove School of Discovery in Ohio, an elementary school which received an award last year for its emphasis on character development. And if her schedule on Monday is any indication for the future, it's safe to say Trump will be extremely busy at her next two stops.
Per a White House press release, the first lady began the day by visiting a pre-k classroom, in which she and the children did an activity that encouraged the kids to brainstorm ways in which they can reflect kindness in their lives. Then FLOTUS went to a sixth grade class, where the press release says she worked with groups of kids who were learning how to communicate and work together. Lastly, Trump attended a second grade class, where children were studying historical events in African American history, and using those events to talk about how they could overcome obstacles in their own lives.
In a tweet on Monday, FLOTUS wrote,
Thank you to the teachers, leadership & students of DOVE School of Discovery in Tulsa for welcoming me today. There is great work being done! It is so important that education includes not only academics, but the importance of a strong sense of character & values. #BeBest
Then, in a statement via the press release, Trump said,
I cannot emphasize further the importance of character-based education for our children. Dove schools embody kindness, respect, positive interactions, and strong character through the curriculum that they teach every day. They are sculpting our next generation by creating a foundation of youth with strong character. I know they will go on to do great things.
According to Tulsa World, the Dove School of Discovery uses an educational framework called the "11 Principles of Effective Character Education." To the publication, Dove Principal Maureen Brown said, "Character education is not always in your face, like a single lesson on respect. It is most effective, according to the research, when you integrate it throughout the curriculum and in the way you do things."
Brown added, "You see a lot of group work here because students learn [about] collaboration and being respectful of others' opinions."
Tulsa World further notes that for security reasons, most teachers and students didn't know Trump was going to pay a visit to the school until she arrived there. Plus, there was a little obstacle in the way of attendance for many, one that even the first lady couldn't help: Monday was an optional snow day for many people in the Tulsa area.
For the students who were able to make it to school, the day was memorable. To Tulsa World, one sixth-grader named Triston Vasquez explained, "I'm going to go home and tell my grandma I was right by [Trump]. It was very exciting; for the first time I met a very famous person."