Mindy Kaling & B.J. Novak Had Fun After The Oscars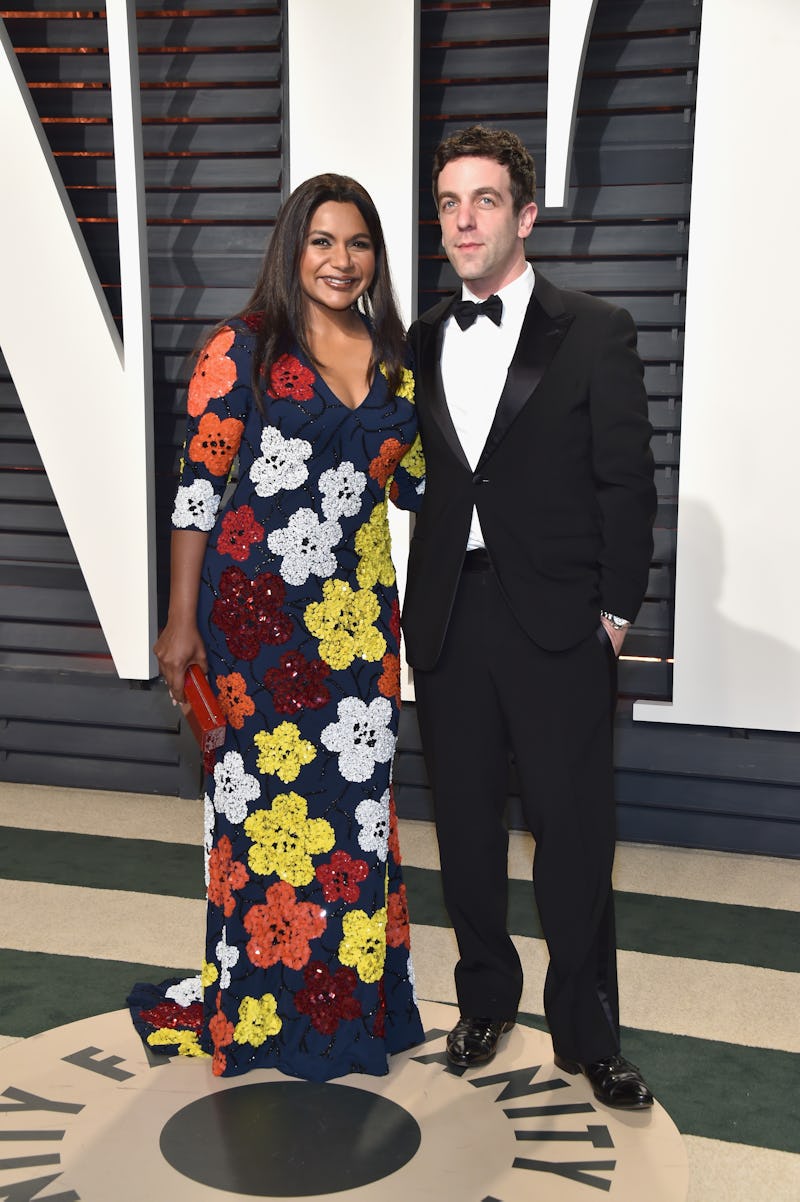 Pascal Le Segretain/Getty Images Entertainment/Getty Images
The Office ended way back in 2013, but that doesn't mean I'm over it yet, and I know I'm not alone. While the entire cast were always hilarious and adorable, onscreen couple Mindy Kaling and B.J. Novak were super fun to watch, because they had such great chemistry. The actors aren't currently dating each other, but they attended Vanity Fair's after party together. And the photos of Kaling and Novak at the Oscars will make fans of The Office incredibly nostalgic. Seeing the pair posing together is bound to make everyone wonder whatever happened to their characters from The Office, Kelly Kapoor and Ryan Howard.
Kaling and Novak's collaborations have continued since The Office ended. Most notably, when Kaling left the show in 2012 to launch The Mindy Project, Novak served as an executive producer on her new series and has appeared on several episodes. In May 2015, it was reported that Kaling and Novak had signed a book deal, rumored to be worth $7.5 million dollars, that will allegedly revolve around their on-off relationship. Clearly, these two friends are going to be working together for many years to come, but Vanity Fair's Oscars after party photos will make you hope that a reunion of The Office is going to happen soon.
Novak and Kaling's photos at the Oscars are so cute because they're intimate and filled with personality. The pair don't take themselves, or each other, too seriously, and their rapport is undeniable. My favorite photo of the two actors features Kaling looking adoringly at Novak. With her hand on his shoulder, her gaze is fixed, and she seems completely captivated by him. I am instantly shipping Ryan and Kelly all over again.
In The Office finale, Kelly and Ryan reunited at Dwight and Angela's wedding. Kelly was married to a doctor called Ravi, and Ryan was a single dad to a kid named Drake (best name ever). Ryan distracted Ravi to get some alone time with Kelly, which resulted in the old couple making out in full view of everyone and then running away together. As their ending on The Office was so open ended, there's always the possibility that fans will get to see Kelly and Ryan reunited once more.
Either way, Kaling and Novak appear to be best friends for life, and their photos at the Oscars only solidify their friendship.