Photos Of National School Walkout Show The Student Gun Control Movement Can't Be Stopped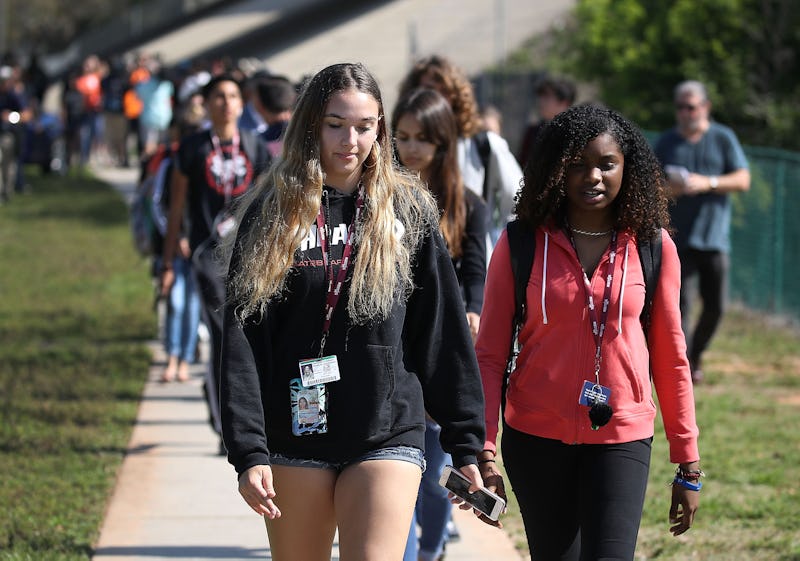 Joe Raedle/Getty Images News/Getty Images
At 10 a.m. across time zones on Friday, students around the United States walked out of school to honor the 19th anniversary of the Columbine school shooting and advocate for gun reform. Soon after the events began, photos of the April 20 National School Walkout flooded social media and demonstrated the power of this latest high-profile protest against gun violence.
It was the second national walkout in two months: The first took place exactly one month after the Feb. 14 shooting at a school in Parkland, Florida. Friday's walkout was initiated by Lane Murdock, a sophomore at a high school in Connecticut. She made an online petition after the Parkland attack that asked students to use the Columbine anniversary as an opportunity to protest. Her petition went viral and the event was born.
"When you're a student ... you don't have voting power," Murdock said in an interview with Al Jazeera. "Since you're a minor, the power you do have is your attendance in school. So if we own that, we can use it for an activity or a movement we care about."
It's quite a power. An estimated 1 million students participated in the last walkout, according to the youth wing of the Women's March. The disruption of students flowing out of schools, along with the event's memorable images, helped keep the gun debate in the news and undoubtedly spurred participation in the March for Our Lives on March 24.
It's already clear that this walkout will also be an event to remember. Here are some of the most powerful images circulating from the day so far.
Orange Is The New Protest Color
Many students wore orange for the event, the color of the movement against gun violence.
When One Student Makes All The Difference
The Advancement Project reports that this student was his school's sole participant in the March 14 walkout but that he "rallied his peers" for Friday's event and is now "far from alone."
From Chicago...
Students walked out from Illinois' Oak Park and River Forest High School and rallied in a local park, releasing balloons in honor of gun violence victims and writing messages about reform to their representatives.
... To New York City...
Many Manhattan high schoolers left school to gather at Washington Square Park and listen to speeches from politicians and activists. Some survivors from Parkland also attended.
... To Central Arizona...
According to AZCentral.com reporter Lorraine Longhi, students and teachers at Chandler, Arizona's Hamilton High School gathered in their football field and stood in the shape of the letters "S.O.S." to align themselves with the Save Our Students anti-gun violence marches.
... To Northern Texas...
Students at Lone Star High School in Frisco, Texas, walked out and held a rally, as reported by Dallas Morning News reporter Valerie Wigglesworth. They registered peers to vote, passed around a petition advocating for a set of gun reform policy changes, and held a 47-second period of silence in honor of the 47 youths who die on average each day from gun violence.
... To Washington, D.C....
Students from all over the D.C. area gathered at the Capitol to protest, including these youths from Arlington, Virginia's Washington-Lee High School.
... To Parkland, Of Course
Students from Marjory Stoneman Douglas High School, the site of the Feb. 14 Parkland attack, participated in the walkout, too. Above, activist David Hogg marches with some of his peers.
Commenting on the D.C. event, MSNBC correspondent Garrett Haake said that Friday's walkout didn't seem to be as large as the previous one, but that it had an "organic feel" and "a real focus on voter registration." Even if it was smaller in scale, this latest walkout made headlines across the country and will undoubtedly help keep the nation's attention focused on the epidemic of gun violence.