These Photos Show The Devastation Of The 7.0 Magnitude Alaska Earthquake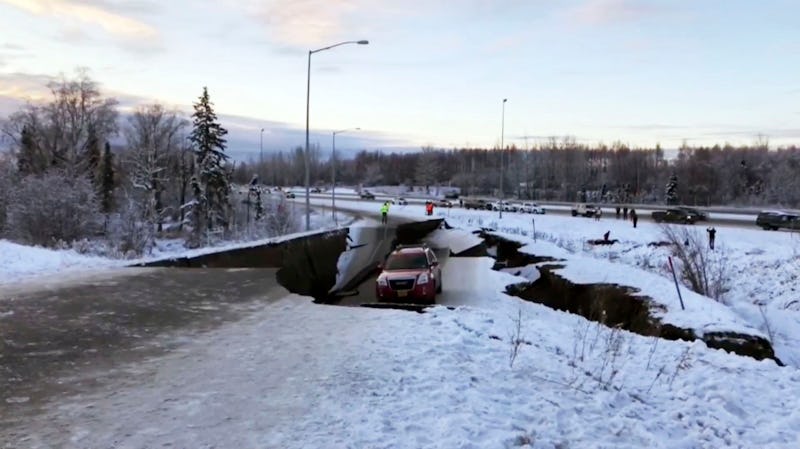 Uncredited/AP/Shutterstock
Alaska was hit with a 7.0 earthquake on Friday that collapsed a highway, knocked a television station off the air and produced at least eight aftershocks. Thankfully, there haven't yet been any reports of serious injuries or death, but photos of the Alaska earthquake reveal the massive, terrifying physical damage it caused in the state.
In addition to severely damaging some roads, the initial quake took out traffic lights and shut down bridges, according to NPR, causing significant traffic problems. A tsunami warning was briefly issued for coastal areas of the state, but the Associated Press reports that it has been cancelled.
"There is major infrastructure damage across Anchorage," wrote the Anchorage Police Department. "Many homes and buildings are damaged. Many roads and bridges are closed. Stay off the roads if you don't need to drive. Seek a safe shelter. Check on your surroundings and loved ones."
According to the Alaska Earthquake Center, the epicenter of the quake was around 7 miles north of Anchorage. It hit around 8:30 a.m. local time and was followed by several aftershocks, one of which was 5.7-magnitude, according to CNN. The U.S. Geological Survey says that the earthquake occurred on a fault line between the Pacific and North American tectonic plates.
Although the quake doesn't appear to have caused any fatalities, pictures from its aftermath are terrifying. Here are some of the most striking.