'All Eyez On Me's Cast Will Make You See Double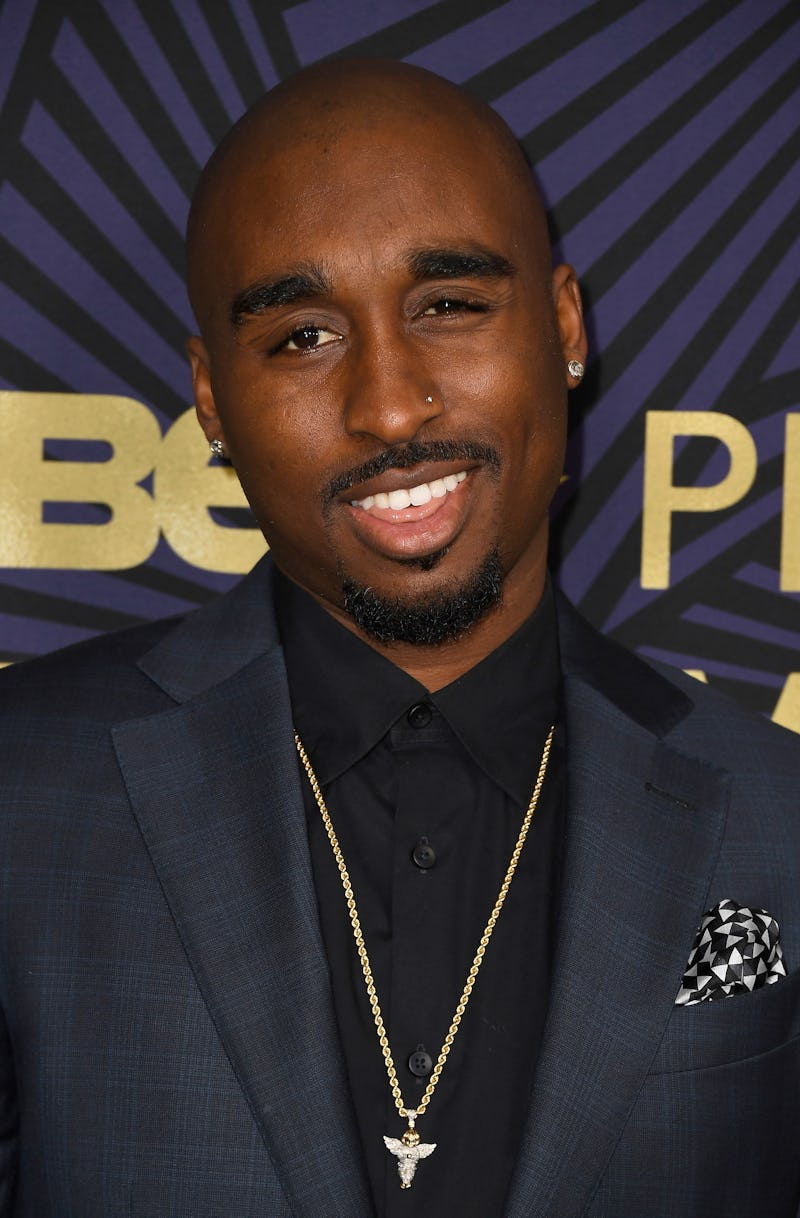 Frazer Harrison/Getty Images Entertainment/Getty Images
In 2015, the N.W.A. biopic Straight Outta Compton became one of the biggest surprise hits in years. So it's not surprising that a movie about another hip hop legend, Tupac Shakur, is arriving this year. All Eyez on Me, which shares its title with 2Pac's fourth studio album, tells the life story of the man many fans consider to be the greatest rapper of all time. The film has gotten a lot of attention thanks in part to its star Demetrius Shipp Jr.'s uncanny resemblance to the late musician, and photos of the All Eyez on Me cast vs the stars show he's not the only well-cast member of the film.
Due to the nature of the movie (it's a biopic about a celebrity), a number of the characters are well-known public figures. Jada Pinkett-Smith was one of Shakur's best friends, designer Kidada Jones was his fiancée, and he of course crossed paths with other famous musicians like The Notorious B.I.G., Suge Knight, and Faith Evans; all of whom show up in the film. Because audiences already know who these people are and what they look like, that makes the casting for the film considerably more difficult, so take a look below at the cast compared to their subjects and see how the film did.
Demetrius Shipp Jr.
Tupac Shakur
The resemblance really is extraordinary. I think the eyebrows are the key feature in bringing it all together.
Annie Ilonzeh
Kidada Jones
Not bad, but Rashida Jones might have been a better choice (she's Kidada's sister).
Jamal Woolard
The Notorious B.I.G.
Woolard comes with a pretty good reference: He already played the late rapper in the 2009 biopic Notorious.
Kat Graham
Jada Pinkett-Smith
Graham certainly could pass for a younger version of Pinkett.
Dominic L. Santana
Suge Knight
Santana doesn't look much like Knight naturally, but he was able to practically transform into the notorious executive for the film.
Grace Gibson
Faith Evans
This one is admittedly a bit of a stretch, but they can't all be home runs.
Danai Gurira
Afeni Shakur
The Walking Dead favorite fills in admirably for Shakur's mother.
Lauren Cohan
Leila Steinberg
Another Walking Dead star, this one's not quite as good of a match, but Cohan and Steinberg do seem to have the same smile.
Overall, the film does a pretty good job of selling its actors as the famous people they're playing. Ultimately, it's how well the film's stars perform their roles that will determine how good of a movie All Eyez on Me is, but getting the looks right definitely gives them an upper hand.