These Side-By-Side Comparisons Show How Uncanny The 'Bohemian Rhapsody' Casting Really Is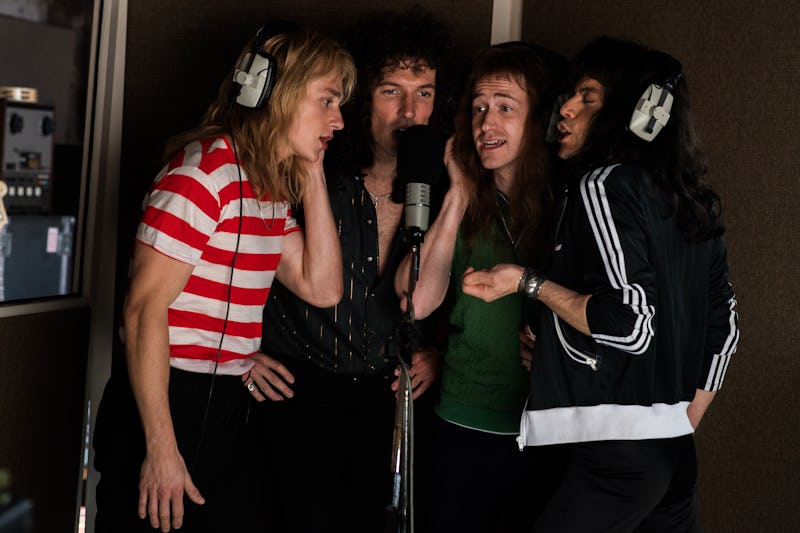 Alex Bailey/20th Century Fox
When the first photos of Rami Malek as Freddie Mercury were released, it was clear that the resemblance was there. But what about the rest of the Bohemian Rhapsody cast and the real people who they're playing? The film comes out on Nov. 2, but if you can't wait to see how the actors match up with the real band, below is a look at the Bohemian Rhapsody cast next to their real life counterparts.
Since the remaining members of Queen are co-producers of the film, they had a say in who was cast as them. During an interview on Jimmy Kimmel Live!, Malek said that Brian May had a voice in who played Mercury, as well as in who played him. As for Malek, he was cast after the producers of Bohemian Rhapsody saw him on Mr. Robot. "I think a lot of it had to do with the jawline," he told Jimmy Kimmel, "because he does have a very austere jawline."
Of course, having the hairstyles, '70s and '80s clothing, and in Malek's case, false teeth to mirror Mercury's overbite helped the actors look even more like Queen. Here's a look at how they all compare.
Freddie Mercury
In the scene showing the band's 1985 Live Aid performance, Malek channeled Mercury with his iconic outfit, but also got his onstage strut down with the help of a movement coach, as shown in this behind-the-scenes video.
Brian May
Actor Gwilym Lee looks a lot like Brian May with this huge wig in the movie. Lee told 107.7 The Bone that May helped out with the performance scenes. At one point he gave Lee this tip: "Don't forget I'm a rock star."
Roger Taylor
Michael Ochs Archives/Getty Images
Again, the wig helps quite a bit with Ben Hardy as Roger Taylor. As far as getting the role, it also helped that Hardy lied about being able to play the drums.
John Deacon
Joseph Mazzello (who will forever been Tim from Jurrasic Park) plays bassist John Deacon and got to go through some style transformations in the film, from this long mullet look to Deacon's much shorter hair in the '80s
The Whole Band
Alex Bailey/20th Century Fox
Dave Hogan/Hulton Archive/Getty Images
As you can see, the whole thing was really just a matter of switching up the mullets and toning down the wild fashion choices as time went on. Just not in May's case; he still has those giant curls to this day.
Mary Austin
Monitor Picture Library/Photoshot/Getty Images
In addition to the band, there are, of course, some supporting characters in the film who are playing real people. Lucy Boynton plays Mercury's fiancée and lifelong friend Mary Austin (above). There's also the role of Paul Prenter, a manager for the band who went on to become Mercury's lover and also majorly betray him. He's played by Downton Abbey's Allen Leech. Photos of Prenter can be see here and here.
While these pictures show how much the cast looks like their characters, to see if they can actually pull off playing them, you'll have to see the Bohemian Rhapsody yourself.