Attention, Queen Fans: This Photo Of Rami Malek As Freddie Mercury Will Blow Your Mind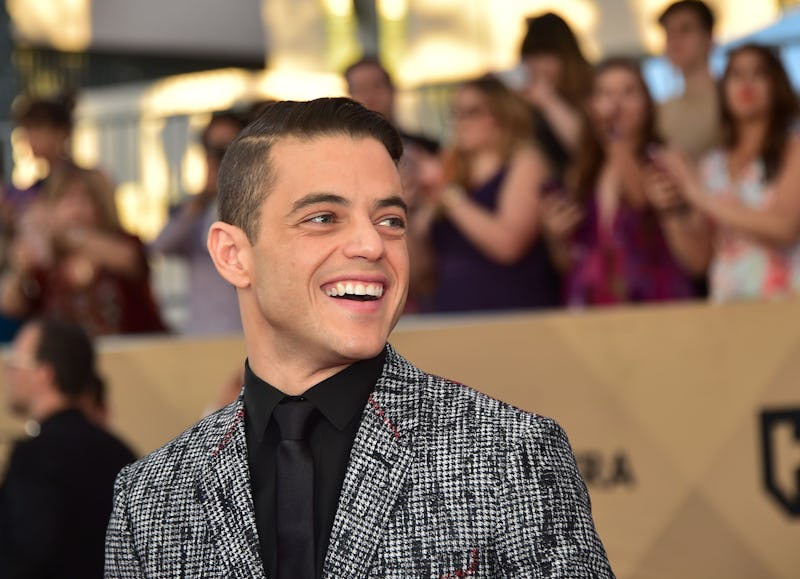 FREDERIC J. BROWN/AFP/Getty Images
Hope you have enough room to stomp your foot twice and clap your hands once, because this image, this image will rock you. The first picture of Rami Malek as Freddie Mercury is on the internet and it is glorious. On what would've been Mercury's 71st birthday, Entertainment Weekly shared a photo of the Mr. Robot star as the Queen frontman at the 1985 Live Aid concert event. And yes, it's some photo, some photo, some photo to love.
The pose, the studded cuff around the bicep, the jawline, the mustache, the mouth pucker, the unapologetically cool attitude that jumps off the screen — every piece of the image channels Mercury, who passed in 1991 at the age of 45. Playing this music legend is undoubtedly a tall order, but if Malek's performance is anything like this snapshot, his portrayal will be dynamite with a laser beam, guaranteed to blow fans' minds.
Last November, Deadline revealed that the Emmy-winning actor had been picked to play the rock and roll icon in a feature film about Queen after Sacha Baron Cohen vacated the role. Bohemian Rhapsody, which is directed by Bryan Singer, is slated to hit theaters on Dec. 25, 2018. The movie is produced by Queen's Brian May and Roger Taylor.
One look at this first photo, and you'll almost certainly be clamoring to see more.
Is that perfection, or is that perfection?
Malek's got the look down, but what about Mercury's pipes? What'll the movie do about recreating that force of nature of a voice for the silver screen? Back in January, the actor confirmed to Entertainment Tonight that he will "sing a little bit." In a recent interview with Entertainment Weekly, Malek elaborated,
"We're going to use Freddie as much as possible and use myself as much as possible. I'm in Abbey Road [Studios] right now if that should say anything to you. I'm not working on my acting."
Can't wait to go ga ga for this performance next Christmas.