These Photos Of The Juggalo March Are Unlike Anything D.C. Has Seen This Year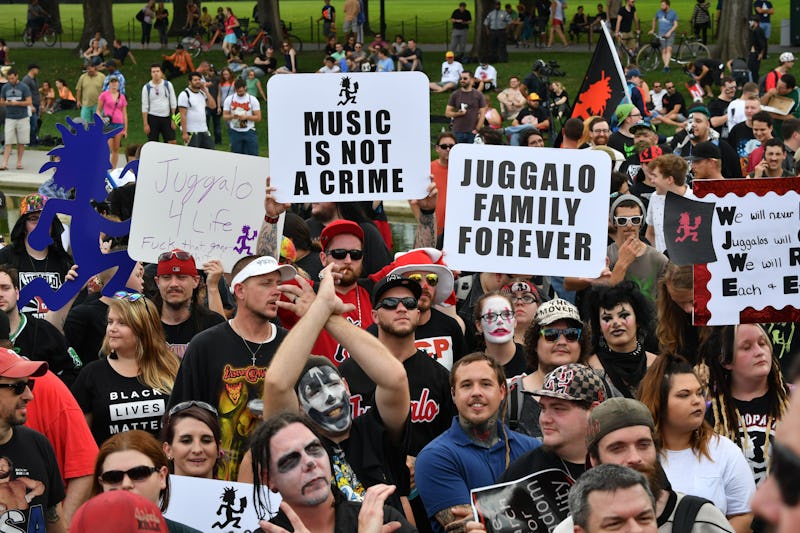 PAUL J. RICHARDS/AFP/Getty Images
Saturday turned out to be an interesting day in the capital. to say the least. Three major marches took place in Washington, D.C. and residents (and dumbfounded tourists) witnessed a rather peculiar mix of political expression in one afternoon. On the conservative side, the "Mother of All Rallies" gathered to "defend American culture and values." The anti-Trump "March To Protect American Values," on the other hand, highlighted the ongoing Russia-Trump investigation. Then there's the Juggalo March. Fans of the rap-rock duo Insane Clown Posse headed to the National Mall for a protest unique to their community, and the photos from the Juggalo March on Washington show an event that D.C. certainly hadn't seen the likes of in the past year.
Fans of the Detroit-area musical duo demonstrated against the FBI's 2011 categorization of Juggalos as a "loosely organized hybrid gang." While some may assume that the Juggalo march is merely entertainment for a weekend, reporters focused on the march explain that the bureau's characterization is nothing less than opprobrium for ICP fans with dire social consequences. Juggalos claim that the "gang" classification has harmed their employment opportunities, among other things. Senior writer for Mic Jack Smith said, "FBI gang designation hurts Juggalos' ability to work, enlist, attend school—Juggalos are natural allies of groups repressed by the state."
Of the three rallies in D.C. on Saturday, the Juggalo March was perhaps the most highly anticipated. And based on these photos from the protest, it's clear that the Juggalos stood out.
1. "Make America Whoop Again"
Unless you're a journalist who keenly follows the surreal bits of your music beat or an ICP fan yourself, you may not know what the famous Juggalo chant "whoop whoop" means. Neither did I.
Will Sigler, a self-proclaimed Juggalo, wrote in the Detroit Metro Times that "whoop whoop" could mean anything. "Most people use it as a form of farewell. You're like, 'Whoop whoop, ninja.' Like, 'Catch you later.' Or like a greeting," Sigler added.
2. Whoop For Freedom
In addition to "Make America Whoop Again," Juggalos called for others to "whoop for freedom" as well.
3. Antifa Marchers In Solidarity With Juggalos
Antifa activists were reportedly present to support Juggalos on Saturday.
4. DSA At The Juggalo March
The Democratic Socialists of America gathered at the march to recruit any Juggalos interested in the party.
5. Juggalo Family of Three
A young family was spotted at the rally.
6. "It's Wrong"
Juggalo protesters expressed their disagreement with the FBI's designation of their group. One said, "I've been harassed my whole Juggalo life, harassed by the police, not promoted at work for my stickers. It's wrong."
7. A Good Question
Inquiring minds would like to know.
8. "Illegitimate Hack"
Some Juggalos had strong words for Trump.
9. A Heavy Accusation Against The FBI
Possibly the worst accusation.
10. "Juggalo Family Forever"
Reporters indicated that several Juggalos were focused on spreading hugs today.
11. "Don't Shoot"
One protester's sign read, "Don't shoot. I'm a just a music fan with a really big family."
12. "Justice For Juggalos"
"I am a marine veteran. Not a gang member," one sign read.
13. Large Crowd
A broader angle of the march showed an impressive and large crowd.
14. More Signs
Some put spins on other popular demands.
15. "Jesus Loves Juggalos"
An unexpected source of support.
If you want to learn more about how some believe FBI's designation of Juggalos as a "criminal gang" can be damaging for the social prospects of ICP fans, check out Mic's Jack Smith's video clip of one of the protesters explaining how such characterization could hurt men and women who simply enjoy rap-rock.