Photos Of The Las Vegas Shooting Are Horrifying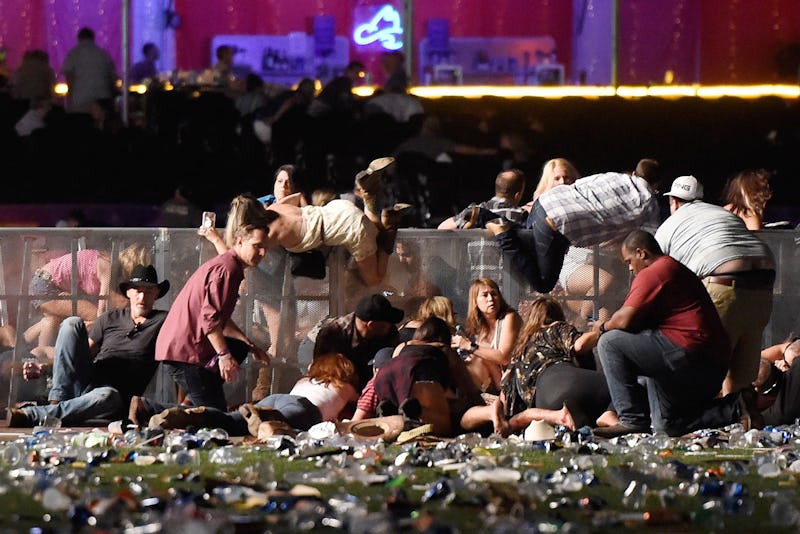 David Becker/Getty Images News/Getty Images
On Sunday night, more than 200 people were injured and at least 50 people killed when gunfire erupted at the Route 91 Harvest Festival in Las Vegas, Nevada. The gunman shot concert-goers from a neighboring hotel while country singer Jason Aldean performed on the main stage. "Confirming that one suspect is down. This is an active investigation. Again, please do not head down to the Strip at this time," Las Vegas police tweeted Sunday evening.
According to The New York Times, audio and video captured by concert-goers reveals that there were several bursts of gunfire from the shooter's position at a window in a nearby hotel. There were "well in excess of 100-plus injured," county sheriff Joseph Lombardo told reporters assembled early Monday morning. "We determined there was a shooter on the 32nd floor of the Mandalay Bay," he added, noting that the shooter had been killed by police.
The Mandalay Bay Resort and Casino sits adjacent to the festival on the Strip. It released a statement early Monday:
Law enforcement requested that we put hotels in the vicinity on lockdown to ensure guest safety. We will provide more information as it becomes available.
Aldean's performance at the festival Sunday night was intended to close the three-day event, which was sold out, according to the festival's website. According to the Times, the site on the Las Vegas Strip has a capacity of up to 400,000 people.
Warning: The following photos are disturbing.
You can learn how to help victims of the shooting here.