Photos Of The Real 'Zookeeper's Wife' Couple Are So Sweet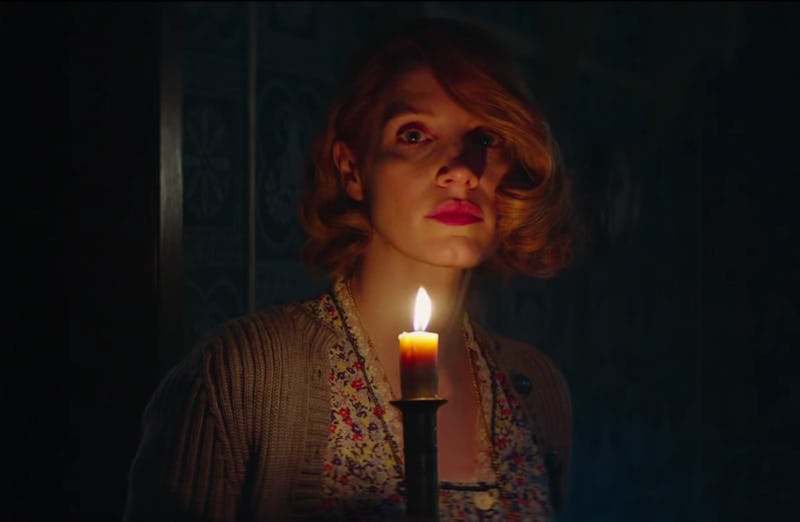 Focus Features
Before you dismiss The Zookeeper's Wife as another Oscar-bait movie about the Holocaust, know this: the film about Polish zookeepers who helped shelter hundreds of jews during Hitler's invasion of Poland is actually based on a true story. Married couple Jan and Antonina Zabinski were running the Warsaw Zoo in Poland when Hitler's army invaded, and in the early 1940s, they used their zoo as a refuge for Jews, hiding them from Nazi persecution in empty animal enclosures and their personal home. Their story, documented in the book The Zookeeper's Wife by Diane Ackerman and now the film adaptation, seems pretty gloomy, but looking at photos of the real Zookeeper's Wife couple, it's not hard to see how happy they were too.
As with any family in the 1930s and '40s, there isn't an abundance of photos of the Zabinskis. Jan, Antonina, and their son Ryszard lived in the Warsaw Zoo throughout the invasion, which left a lot of destruction in its wake. Many of their animals died in raids, and the family was kept pretty busy by their decision to harbor Jews, while also keeping up a good front with the Nazis who roamed the town. In addition to running a sort of underground railroad in the zoo, Jan also worked as a lieutenant in the resistance. Needless to say, it shouldn't be a big surprise that taking family photos wasn't exactly a priority for the couple. That said, there are a handful of photos of the couple in existence.
Almost all photos of the Zabinskis depict them with their animal family members. The couple were known for caring for their animals so much that some cubs were brought into their home, and the photos certainly emphasize their love of animals.
Both Jan and Antonina have been recognized for their heroic efforts. They are believed to have saved an estimated 300 lives, and the Warsaw Zoo now hosts a museum recognizing the Zabinskis.
In 1944, Jan left the Zoo to fight as part of the Warsaw Uprising. He was later arrested by the Germans as a prisoner of war, but managed to return to the Warsaw Zoo in 1946.
Though there are no photos of Antonina at her piano, the avid animal lover was also a bit of a musician. In fact, she used her talents to communicate secretly with her guests. "She played for us one piano tune and told us to sit tight and be very quiet if we heard that music, and then another tune to indicate the danger was over," said Moshe Tirosh, who hid in the Zoo with his family in 1940, in an interview with the Jewish Telegraphic Agency.
Antonina and Jan died in the 1970s, but their daughter Teresa Zabinska is still very much alive. She attended The Zookeeper's Wife premiere in early March, where she posed for pictures with the film's star, Jessica Chastain, who plays Antonina.
Jan and Antonina make their big screen debut of sorts in The Zookeeper's Wife, in theaters on March 31.