Protest Against Trump's Refugee Ban Grows In NYC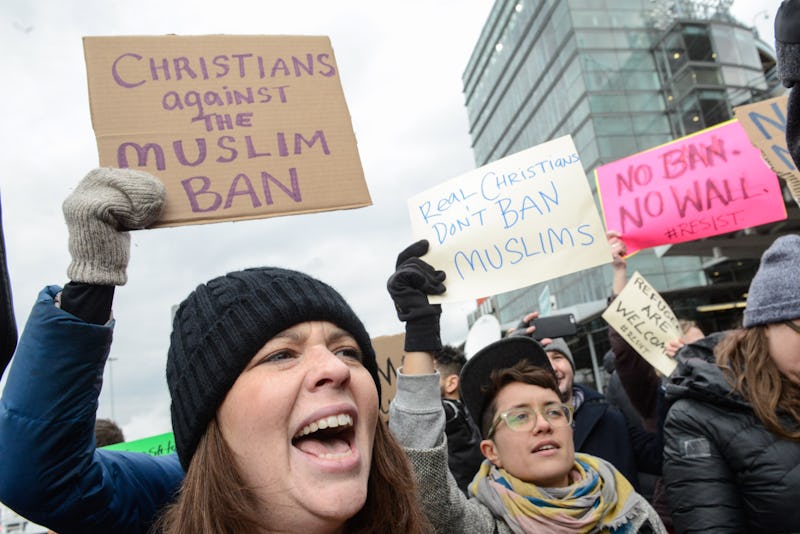 Stephanie Keith/Getty Images News/Getty Images
Less than a day after President Donald Trump signed an executive order with widespread ramifications on refugee admissions and immigration, hundreds of peaceful demonstrators have gathered outside the fifth busiest airport in the United States in protest. Images from New York's refugee ban protest prove many Americans don't share Trump's views on refugees or immigrants.
Demonstrators chanting "let them in" and "no hate, no fear, Muslims are welcome here" converged on New York City's John F. Kennedy International Airport on Saturday to protest the president's decision to temporarily suspend refugee admissions and ban citizens of seven Muslim-majority countries from entering or re-entering the United States for 90 days even if they hold a valid green card or are a dual citizen. Trump's executive order sparked immediate outrage and confusion as newly-arriving refugees and U.S. visa and green-card holders were detained at airports across the country Friday and denied entry (or in some cases, re-entry) to the United States.
"We are here to say that we stand with folks that have the legal right of entry to our country," New York State Assemblyman Francisco Moya told Policy Mic. "New York has always been that port of entry for immigrants to come here. People are standing up and they're rising up against these executive orders that are just being delivered to divide this country. This is a country that was founded on immigrants, they have been contributing to this country and the very fabric of our society."
U.S. Representatives Jerry Nadler and Nydia Velazquez also joined protesters who had reportedly been initially organized by the New York Immigration Coalition. "It is a sad day for the American people," NBC News reported Velazquez said during Saturday's protest. "This is not who we are, this is an affront to our American values. This is a matter of life and death. These types of actions undermine our national security, and our president, Donald Trump, doesn't get it."
Members of the New York Taxi Workers Alliance joined protesters with the union later releasing a statement declaring its support and solidarity with demonstrators opposing Trump's ban.
Although the protest at JFK began with only a few dozen people responding to a spontaneous call to action, the size of the demonstration continued to grow as word of what was happening spread over social media.
Similar protests against the executive order Trump signed to temporarily suspend refugee admissions and ban citizens from seven Muslim-majority nations from entering the United States are scheduled to take place in California and Massachusetts later this weekend.