Here Are Photos Of The Trumps, Obamas & Clintons All Together At Bush 41's Funeral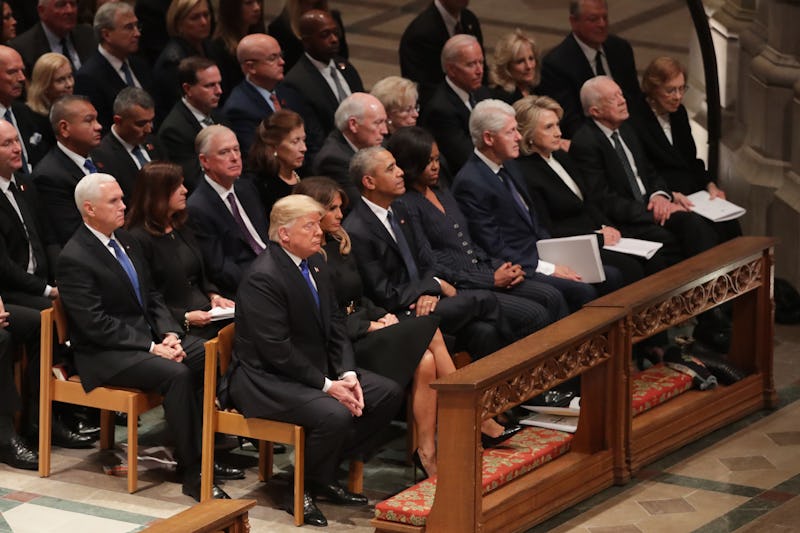 Chip Somodevilla/Getty Images News/Getty Images
Presidential funerals aren't only remarkable for honoring the legacies of enormously consequential people; they're also a rare opportunity for present and former leaders of the United States to all gather in one place. On Wednesday, President George H. W. Bush's funeral brought the Trumps, Clintons, and Obamas together, and the incongruous crew sat next to each other solemnly during the ceremony.
NBC White House reporter Monica Alba reports that this was the first time that former Secretary of State Hillary Clinton had come face-to-face with President Donald Trump since his inauguration (which she said she was reluctant to attend after losing her bid for the presidency months earlier). It was also the first time that Trump had seen President Bill Clinton or President Barack Obama since that day in January 2017, per Alba's reporting.
President Trump and Melania Trump marched slowly down the aisle of the National Cathedral before joining their group in the front. Michelle Obama, President Jimmy Carter, and his wife Rosalynn Carter were also sharing their row. The first lady shook hands with Obama and Clinton before sitting down and also gave Secretary Clinton a polite wave, which she returned with a short smile and a nod.
President Trump shook hands with the Obamas but declined to make eye contact with anyone else in the row. Secretary Clinton resolutely looked forward, eschewing even a glance in his direction. The Guardian called their mutual avoidance "chilly."
Reporters on Twitter also noted the politicians' aloofness towards each other. HuffPost called the seating arrangements "peak stressful live TV."
The group received a warm welcome from President George W. Bush, the late president's son, who delivered one of four eulogies during the event. He first shook hands with the Trumps before moving down the line.
Michelle Obama smiled widely as Bush gave her something small and candy-like out of his pocket, in reference to the time he handed her a mint during John McCain's funeral (their exchange went viral on social media). The two have a warm friendship, in part from bonding while sitting next to each other at formal events.
Bush made sure to welcome everyone in the row.
The Obamas and Clintons seemed to share some joyful moments as they waited for the ceremony to begin.
They also had an opportunity to socialize beforehand.
During the service, though, they mostly seemed to sit in respectful silence.
The service's eulogies were sincere and touching. According to NBC, Meacham labeled Bush "the last great soldier-statesman" who "believed that to whom much was given, much was expected." He also called Bush a "loving man with an all-enveloping heart."
"To his very last days, Dad's life was instructive," President Bush said of this father to open his own speech. "He taught us how to grow with dignity, humor and kindness — and when the good lord finally called, how to meet him with courage and with the joy of the promise of what lies ahead."