Michelle Obama Knows People Are Hungry For More Hugs Between Her & Bush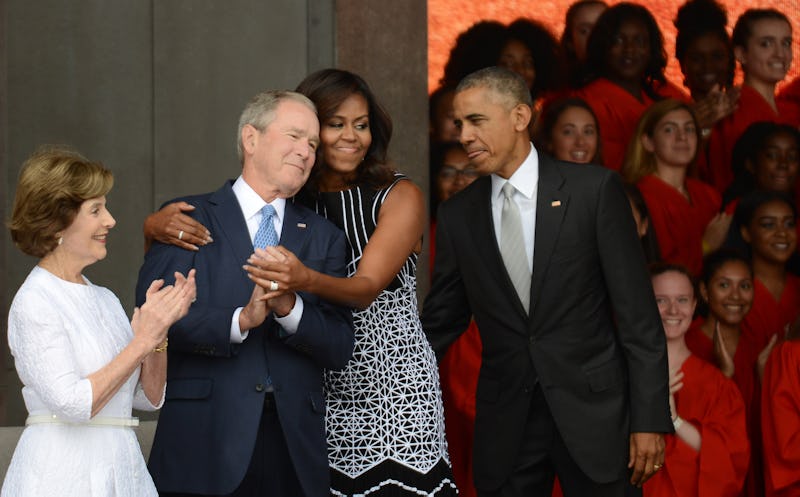 Astrid Riecken/Getty Images News/Getty Images
Michelle Obama's friendship with President George W. Bush is legendary. Even their subtlest public interactions inevitably turn into viral photo-ops, from hugs to passing each other mints. In a new interview with the former president's daughter on NBC's Today, Obama said she hopes her relationship with Bush serves as a model for friendships overcoming partisanship.
Obama is currently promoting her new book, Becoming, a memoir that spans from her childhood through her time in the White House. One of the many interviews she's conducted in her book tour was with Jenna Bush Hager, an NBC correspondent and the daughter of the 43rd president. Unsurprisingly, Bush Hager raised the Obama-Bush dynamic in their conversation, which Today released on Wednesday.
"It's so interesting how people are so interested in y'all's friendship," Bush Hager said. She brought up the famous moment when Obama hugged Bush during the 2016 dedication ceremony of Washington D.C.'s African American History and Culture. Photos of their embrace went viral — so much so that NBC called it "the hug felt around the country."
"Why do you think people are so hungry for that?" Bush Hager asked Obama.
"Because I think the political discourse, the way it's shown in the media — it's all the nasty parts of it. You know? ... I guess we've become a culture where the nasty sells," Obama replied.
"I'd love if we as a country could get back to the place where we didn't demonize people who disagreed with us," she continued.
That hug marked just one of several instances that the country has gushed over Obama and Bush's friendship. Earlier this year, a video clip of them passing something to each other during John McCain's funeral circulated wildly around social media. People speculated about the object, wondering whether it was candy, a cough drop, or a tissue.
The former first lady eventually explained that Bush had given her some sort of mint and called it a "simple gesture." That it was — but when it comes to these two, the moments that seem to win over hearts are the simplest ones.
Obama has said that she enjoys Bush's sense of humor. The former president has explained that they "just took to each other" when they met. In her new Today interview, Obama called him a "beautiful, funny, kind, sweet man."
"We're all American," Obama told Bush Hager. "We all care about our family and our kids and we're trying to get ahead. We have different ideas about what's the best way to get there." She said she hopes her friendship with Bush "reminds us that we can get there — with the right leadership and with the right tone setting and with each of us giving one another the benefit of the doubt."
Bush Hager noted that her father sent her a text the morning of the interview that read, "Send Michelle my love." She told Obama that she responded, "Don't you call her Mrs. Obama?' He's like, 'No, I call her Michelle.'"