Photos Of The World's Women MPs Gathering For The First Time Will Make Your Heart Soar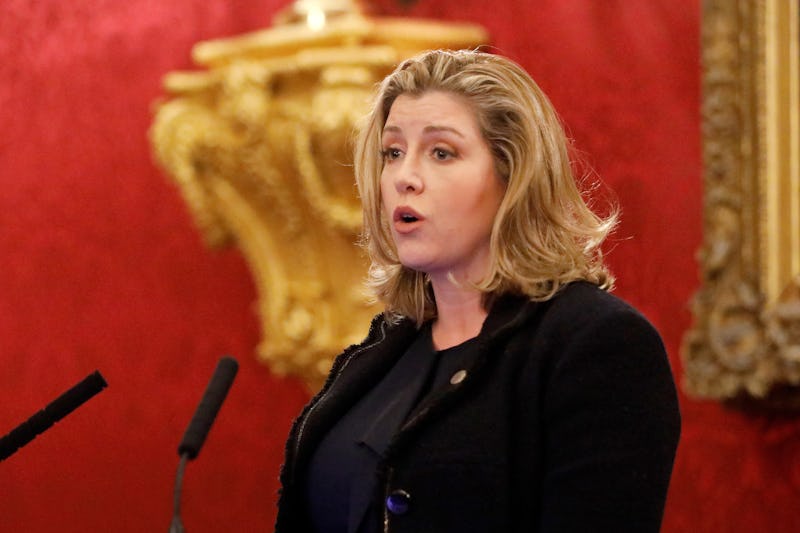 WPA Pool/Getty Images Entertainment/Getty Images
Marking 100 years of women's suffrage in the United Kingdom, women parliamentarians from around the world gathered in London's Houses of Parliament on Wednesday evening for the first-ever "Women MPs Of The World Conference." The UK's global development secretary and minister for women, Penny Mordaunt, lauded the "powerful, strong, courageous" members of various parliaments who joined her. One politician even brought her little toddler to the event.
Hailing from 86 different countries, 120 women sat in the chamber of the House of Commons that day. The minister suggested that there ought to be a "giant sisterhood WhatsApp group" where the parliament members could touch base with each other. "The margin of success is in this room," Mordaunt said. "Because courage calls to courage everywhere, because without women's rights there are no human rights."
It wasn't just the suffragettes from the past that Mordaunt praised during her address; she also mentioned a politician, Jo Cox, who was killed two years ago. Cox, a member of the Labor Party, was assassinated in Leeds, United Kingdom, in 2016. In 2018, a square in the Belgian capital of Brussels was named after Cox in her honor.
Mordaunt added that female parliamentarians had to show "restraint and resolve ... when constantly being patronized, the fight to be heard, and to keep going when you are frightened."
UK Prime Minister Theresa May was also present to receive the global delegation of women parliamentarians on Downing Street. May said that in spite of the cultural, national, and political differences, "each of us have answered the unique calling that is public service. And we all have the privilege of serving our communities and our countries in our national legislatures."
With more women in parliaments across the globe, May said that there could be more of an opportunity to focus on "gender-based violence, on girls' education, on childcare, and on women's health." Shared below are just some of the photos from the official gathering on Wednesday.
May also spoke of the benefits of a parliament with equal representation on the gender front. "After all," she said, "if half the population is systematically excluded from politics then you're excluding half the talent." Parliaments where gender equality was inadequate functioned like a parliament "with one hand tied behind its back," according to May.
Photos from the day showed various women parliamentarians sharing their points of views in the House of Commons, but perhaps the most uplifting image was that of one parliamentarian's beaming toddler. And the accompanying teddy bear.
May brought up the United Kingdom's suffrage movement and added that she looked forward to improving women's rights all around the world through UK-driven programs. May said, "In the words of the great British suffragist Millicent Fawcett, whose statue took its rightful place in Parliament Square this year, she said, 'courage calls to courage everywhere.'"
"So regardless of affiliation or ideology," the leader urged, "let's all work together, let's learn from each other, let's build the networks that will allow us to succeed."